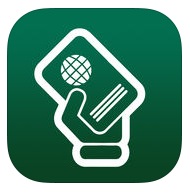 A student-developed mobile app that rewards students for attending career fairs, club meetings and other college events has caught fire at Wright State's Raj Soin College of Business.
Arijit Sengupta, associate dean and professor of management information systems, helped students design and build the Passport to Success app, which runs on mobile devices such as smartphones and tablets, supporting both iOS and Android.
"What surprised me the most was the involvement of the freshmen," said Sengupta. "I can tell you that the freshmen are the top users of the app. And that was an eye-opener."
One of the freshman users is marketing major Rufina Suleyman, who says the app has helped her engage with college clubs.
"I can definitely say as a freshman it does help you out when you don't know the campus as much and you want to make friends and just hang out and network and get to know the people," she said. "This app helps me get involved."
The original Passport to Success was launched in 2016 as a printed booklet. It featured a list of events and blank spaces in the booklet that could be stamped for the events attended, like a passport.
The college-organized events included guest speakers, career fairs, Wright Brothers Day and the Wright Venture entrepreneurship competition. Meetings with advisers also counted as events.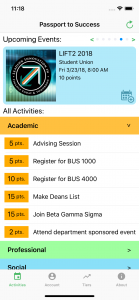 Students received points for each event attended and redeemed the points for prizes such as T-shirts, gift cards, tumblers, leather portfolios and photo sessions. The prizes were awarded at the end of the semester.
"The biggest purpose was to create an engagement platform. We wanted students to engage," said Sengupta. "We would have events and sometimes students wouldn't know about them. Sometimes they wouldn't know what they could get out of these events."
The college distributed about 300 booklets during the 2016-17 academic year, and while they were largely successful, students would occasionally lose the booklets or forget to bring them to the events. That defeated the purpose of having a "passport" they could later show prospective employers.
Last spring, Sengupta was teaching an Android class and the discussion led to the idea of building a mobile app to replace the printed version of Passport to Success. So over the summer, Sengupta and several of his students worked on developing the passport app for iPhone and Android users.
Tyler Hoosier, an accounting major, said it just seemed that Passport to Success would be more efficient and accessible as an app.
The students had to first define the app's functionalities and then sketch out a design, plan the steps and scenarios, design the database and build the app. They then had to test it to make sure it wouldn't crash or develop other problems.
"It was really cool seeing how a professional app was structured," said Dieter Archer, a management information systems major who also helped build the app.
The app went live at the beginning of the fall 2017 semester. In six months, the app has been downloaded more than 800 times and 560 students have logged in to the app.
The icon looks like a human hand holding a passport. When students download and open the app, they see a list of upcoming events and opportunities that are constantly updated with fresh details. The students can place the events on their calendars and get notifications as the events approach.
When students attend the events, they scan their phones over the posted QR code, a machine-readable barcode that records their presence and gives them points. Events carry different amounts of points, ranging from two points for attending a Finance Club meeting to up to 25 points for visiting every booth at Career Day.
"I think of it like a game — to see how many points I can get," said Suleyman.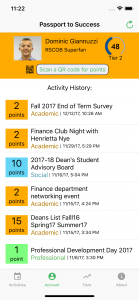 Instructors can use the app to identify students who attend certain lectures and other events in order to give them extra credit.
Kassidy Williams, a management information systems major, said she uses the app every day to check on upcoming events and put them on her calendar.
Raneem Barri, an accounting and management information systems major, said the app is easy to use and access information from and has enabled her to get more involved.
"It's a really nice accessible way for students to have a good consolidated place where they can view all of their opportunities here on campus," Barri said. "It's like a centralized calendar. It's something that we never had before."
Other students involved with the development or use of the app include Adam Kemper, Samuel Ford, James Kinion and Tracy Schlenker.
Sengupta said the app has created a sense of engagement and belonging among the students.
"Out of their own hands came this wonderful thing that they actually all use," said Shu Schiller, associate professor and chair of information systems and supply chain management. "For this generation, mobile is the way to go."