Excerpt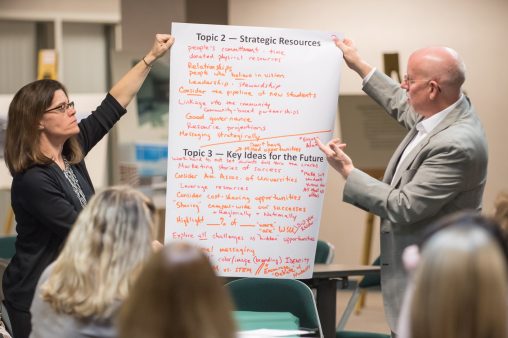 Wright State University leaders and representatives are meeting for three days this week to assist in development of the school's new strategic plan.
More than 100 people will meet today through Thursday at Wright State's 2455 Presidential Drive building, which will serve as the future home of the school's archives center. The future plan has been dubbed "The Wright Path to 2025," according to the university.
Following this week's meetings, a strategic planning committee will host an event to unveil an "updated vision" and a draft of the strategy. The committee includes 33 WSU students, employees and alumni and is led by president Cheryl Schrader.
This summer, university leaders will refine the plan and in the fall they will present it to Wright State's board of trustees. The board is expected to sign off on the plan in October which will allow the university to begin implementing the plan.
Though details have remained scant, the university is known to be considering an academic reorganization that could merge departments and colleges. Upon her arrival in July, Schrader said that all departments and programs at Wright State would undergo a review.
In her first year as president, Schrader has also hosted a number of public forums to discuss pressing issues such as finances and enrollment, which would likely be addressed in a new strategic plan.
The university's finances in particular could be in the spotlight of a new strategic plan as trustees slashed more than $30.8 million from Wright State's budget in June.
View the original post at daytondailynews.com