The Wright State University Boonshoft School of Medicine's 13th Annual Global Health Initiative Symposium and Dinner will be held Friday, May 4, at 5 p.m., in White Hall at Wright State University. The event will begin with a global food tasting, silent auction and student elective presentations to raise funds for medical students participating in the Boonshoft School of Medicine International Education Program.
The keynote speaker will be Roger Pacholka, M.D., a graduate of Wright State University. Pacholka received his Bachelor of Arts in 1980, a Doctor of Medicine in 1985 and graduated from Wright State's Emergency Medicine Residency Program in 1988.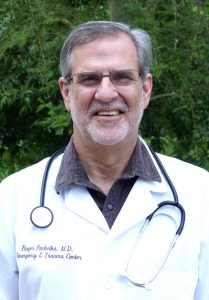 He now leads medical students, residents, attending physicians and other health care professionals serving the poor in Southern Africa. As a medical student, he developed a two-month global health rotation in Swaziland, Africa, becoming the first of hundreds of Wright State students to work in the area. He serves as the medical director and U.S. board chair for Mercy Air South Africa, a nonprofit missionary aviation organization that provides humanitarian, medical, educational and agricultural programs throughout Southern Africa.
The annual event brings distinguished speakers to share their perspectives on international health issues and raises funds to assist medical students in traveling to underdeveloped countries. Most of the money raised goes to fourth-year students in the medical school's International Education Program, who are required to complete a rotation abroad. Participation in national and international medical aid, research and cultural experiences helps these future doctors gain a better understanding of the global nature of medicine and public health.
First-year medical students at the Boonshoft School of Medicine founded the Global Health Initiative in 2000. The initiative's mission is to enhance the education of Wright State medical students by facilitating their exposure to both the medical issues facing people in other countries and the medical issues of people in this country who have immigrated and, in so doing, inspire greater compassion, social justice and empathy within future physicians.
The cost is $50 for general admission and $20 for Boonshoft School of Medicine students. For more information, contact Delores James at delores.james@wright.edu or 937-245-7623.
To register for the event, go to medicine.wright.edu/ghi-symposium.