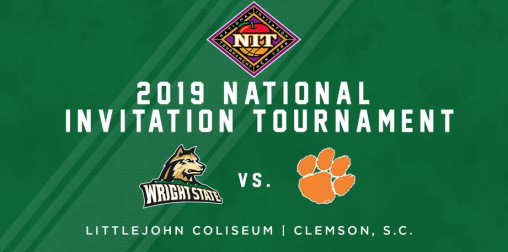 Making the program's first appearance in the National Invitation Tournament (NIT), the Wright State men's basketball team will play at Clemson on Tuesday, March 19, at 7 p.m. on ESPNU.
The Raiders, 21–13, were regular-season co-champions of the Horizon League. After starting the season 8-10, they finished strong, going 13-3 over their final 16 games.
Clemson, 19–13, went 9–9 in the ACC this year under nine-year head coach Brad Brownell. Raider fans are familiar with Brownell, who coached at Wright State from 2007 to 2010, compiling a record of 84–45.
The NIT has a long and distinguished history. It was founded in 1938, one year before the NCAA tournament, and was the most prestigious postseason showcase for college basketball over its first three decades.
Originally, the tournament invited a field of six teams, with all games played at Madison Square Garden in Manhattan. The field was expanded over the years, reaching a high of 40 from 2002 through 2006. In 2007, the tournament reverted to the current 32-team format.
Since Temple was crowned the first champion in 1938, many schools such as Penn State, Ohio State, Stanford, Michigan, Wake Forest, UCLA and Kentucky have won recent titles. Penn State won the championship last year, defeating Utah 82-66.
Tickets
Tickets are on sale now and can be purchased by clicking here.