In the spring of 2000, several former Wright State students, faculty, staff, and community members gathered to plan a 30th anniversary celebration of Wright State's first on-campus identity center — the Bolinga Black Cultural Resources Center.
The Bolinga Center officially opened on the birthday of Martin Luther King Jr. — January 15, 1971 — 15 years before the day was designated a national holiday.
The center sponsors tutoring and mentoring programs and also serves as a classroom, meeting room, study lounge, and library. The Bolinga Center is also credited with being a driving force in establishing the African American Collection in the Dunbar Library, and the African and African American Studies program.
But the people who came together to plan the 30th celebration were able to collaborate and create one more program the Bolinga Center can be credited for — the African American Alumni Society.
"A group of the founders for the Bolinga Center was pulled together to help organize," said Carolyn Wright '73, alumna and founding member of the society. "Some of us had talked and were still in touch, and we had spent a lot of time together talking about Wright State and what was going on."
Wright remembered she had a colleague who was part of the African American Alumni Society at Earlham College, a liberal arts institution in Indiana. They began discussing a similar initiative at Wright State, and talked about the structure of the society at Earlham. Before long, the idea was more than an idea.
Wright mentioned several people who were initially involved in the beginning stages, including Dr. Anthony Whitmore '80, a former member of the Bolinga Center Advisory Board; Judge James F. Cannon '73, '74, former municipal court judge for the City of Dayton; Karen Hunt '86, current Wright State Alumni Association Board member; and William '70 and Linda Gillispie '73, long-time supporters of Wright State. It had also become a goal of the alumni association in the early 2000s to diversify their engaged alumni population. Wright said this group embraced that idea and ran with it.
"The society kind of grew from that notion," she said. "So, once we planned the 30th anniversary and had a number of activities together, we began to form the structure of the society."
The first identity alumni society within the Wright State Alumni Association was the African American Alumni Society, founded in 2001 — shortly after the Bolinga Center anniversary.
Wright name, Wright school
Forming the society has long been a proud moment for Wright, who first set foot on campus in 1969. Since then, she has been a long-time social justice and civil rights activist. As a student, she marched for equality on campus and was a leading student founder of the Bolinga Center. She came from a predominantly white high school in Dayton, but, when she came to Wright State, she was disappointed to find the number of black students was so small.
"That was during a time, also, when we were going through an era of learning about ourselves and who we were and establishing our identities," she said in a 1992 recording entitled "Profiles of African-Americans: Their Roles in Shaping Wright State University" from the Wright State archives. "So, in terms of the social and cultural fellowship, we developed an organization with the black students and really became more like a family."
As momentum for building a black cultural center on campus grew, Wright became involved with the Committee for the Advancement of Black Unity (CABU). The vision for CABU extended beyond that of a student organization planning social activities to one that would explore the history and significance of black people in America. Tensions came to a tipping point over the winter break in 1971, when several students, including Wright, participated in a sit-in in President Brage Golding's office when a black female employee was terminated. The Bolinga Black Cultural Resources Center was founded later that month, with Yvonne Chappelle as its first director.
"Dr. Yvonne taught us a lot in terms of how important scholarship was," Wright said — something Wright carried over into her role as Bolinga Center acting director from 1977 to 1980, and eventually into the development of the African American Alumni Society and its scholarship.
"I think the other main thing from my background was that I learned the importance of community and the importance of taking care of African American students on campus," she said. "That was our major thrust and was probably the main reason we formed the society — to work closely with, and support, African American students."
The end game
It was that overall purpose and Wright's time working in the Bolinga Center that inspired her to help establish the African American Alumni Society's most important goal — building a scholarship fund for black students at Wright State.
"Once we began to meet as a society, [our goal was] helping African American students not only get to Wright State, but get through Wright State," Wright said.
But, she said, at the forefront of most of their initial conversations about providing support for students was one thing — finances. Establishing a scholarship program became the society's main goal and, as Wright recalls, it was an incredibly personal decision for many of the members, including herself.
"We just knew how difficult it was for African American students on a white campus to, first, feel included, and to, secondly, succeed because of a lot of different pressures — and one of those was financial," Wright said.
The society wanted to ensure that the scholarship was attainable for most African American students. The GPA and other academic requirements became just one part of the application. The established criteria required a 3.0 GPA for an incoming student and a 2.5 GPA for a current student, rather than a "top" GPA of a 3.5 or 4.0 because, as Wright says, they found many student applicants "had the need, but were not 4.0 students."
"We were trying to get a student who was a good student, but who was also involved in the community," she said. "I think that was more our thrust [because] community could mean the surrounding community, of course, but more so on campus."
According to the scholarship agreement, the African American Alumni Society Scholars Fund is awarded by the Office of Financial Aid and the African American Alumni Society to recipients who are of African American descent, have demonstrated financial need, are enrolled for a minimum of six credit hours, live in the Greater Miami Valley area, and meet GPA requirements. The official decision is made by the African American Alumni Society's scholarship committee.
Former president of the African American Alumni Society and current Wright State Alumni Association board member Edwin Mayes '89, '96, said being involved with the scholarship program has been incredibly rewarding because he is passionate about helping students who are in circumstances similar to his at one time.
"In addition to giving back my time and also the contributions I make to the scholarship fund, it is wonderful to see how the scholarships help students reach their academic goals," he said. "The scholarship money is a life-changer for many of the students we select."
Mayes says he is also in awe of the students who earn the scholarships and go on to esteemed careers after graduation. "Our yearly scholarships add to the legacy of successful African American students who have graduated from Wright State University, with the support of African American Alumni Society and the enrichment from the Bolinga Center."
Scholarship recipients
A physician. A law professor. A neuroscientist. A TV reporter. A fundraiser. A social worker. An advocate for the disabled. A registered nurse. A marketing analyst. An entrepreneur. A radio disc jockey.
All of these are jobs currently held by Wright State alumni who all have one thing in common—they were each recipients of the African American Alumni Society scholarship as students. And many of them say they owe their career success specifically to this scholarship, not only for the financial award, but for its secondary benefit—a reason to drive for success.
Alumna Ebony Davenport '13 was a recipient of the scholarship in 2009. After graduation, she was accepted to the University of Dayton School of Law and earned her J.D. She is now on faculty there as a visiting assistant professor, teaching legal profession and criminal law lab courses.
"The scholarship allowed me to devote all of my attention to my studies," said Davenport. "The financial burden that would have been placed on me without the scholarship would have impacted my studies significantly. I would have needed to pick up more hours at work, leaving less time to study or get involved in extracurricular activities."
Another recipient of the scholarship, Taylor Floyd '16, also pursued graduate school and is currently earning her doctorate in neuroscience from Weill Cornell Graduate School in New York City. She is a third-year graduate student analyzing how a small mutation in the human genome can lead to developmental ataxia in children.
Floyd says the scholarship allowed her to continue her education at Wright State and find the career path she wanted to pursue — becoming a developmental neuroscientist.
"Receiving the African American Alumni Society scholarship helped me further my undergraduate neuroscience research project, as well as expanding my biochemistry knowledge through junior/senior level biochemistry electives," Floyd said. "It's wonderful that the African American Alumni Society supports black students who are striving to succeed beyond society's expectations, especially in STEM fields."
Endowment and beyond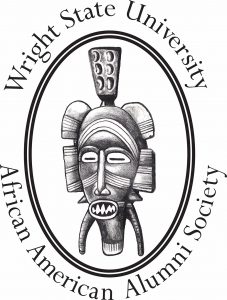 When the scholarship became available to students in April 2006, it was funded primarily by society members through traditional fundraising methods.
"It was difficult — difficult but enjoyable," said Wright. "We were all working toward something that was really important to us and that we could all believe in … to be able to reach out and touch alumni who hadn't been active all that time and to other resources in the community."
The society fundraised until the scholarship was successfully endowed within the Wright State University Foundation in 2012, a significant accomplishment.
Mayes agreed that the initial grassroots fundraising was rewarding, but sees this endowment as a big step toward the scholarship's future. Within the next 10 years, Mayes hopes the program could maybe even provide a full scholarship or other opportunities.
"Imagine being able to cover academic expenses of a fifth-year senior with one semester to graduate, or a single mom who needs a few more classes to finish her degree," he said. "There are numerous situations where this scholarship can be helpful in changing the lives of our students."
As for the future of the program, Wright said the goal remains the same—helping students reach their goals.
"Our whole purpose for the scholarship program was to give back to students in need and empower them to succeed," she said. "To see them succeed is just amazing and it is a good feeling."
For more information on the African American Alumni Society's scholarship program, visit wrightstatealumni.com/scholarships.