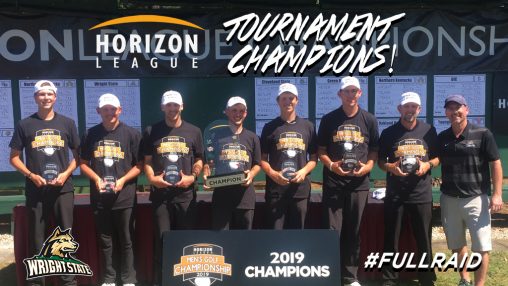 The Wright State golf team won its sixth Horizon League title and first since 2004 as the Raiders came from behind to seal the victory April 23 at the El Campeon Golf Course in Howey-in-the-Hills, Florida.
The Raiders will make their fifth NCAA tournament appearance.
Placed on the All-Tournament Team from Wright State were Bryce Haney and Cole Corder. Haney, a sophomore from Huber Heights, finished second overall with rounds of 74-72-72=218 while Corder, a freshman from Powell, placed third overall with scores of 78-71-71=220. Austin Schoonmaker shot 74-75-76=225 to finish tied for 10th.
"I'm really happy for this team. They put a lot of trust in me and have bought into what I've asked them to do, and today was the first time it clicked for all of our guys on the same day," Wright State head coach Brian Arlinghaus said. "We got great play from every single one of our guys, but more importantly, they carried themselves in a professional manner and exuded confidence at all points today. Our goal was to stick with our individual game plans, stay in our bubble and be disciplined. I told them last night at our meeting, if you can just give me those three things tomorrow that we'd have a good chance at winning this thing. They did and we did."
As a team, the Raiders were steady throughout the tournament and strong on the final day, shooting 302-298-288=888. Wright State was third after the first round and second after round two. Wright State started the final day just four strokes back of first place Northern Kentucky, gaining significant ground during the round. The Raiders shot a par 288 for the final round, seven strokes from Oakland and 12 better than second place NKU.
"I played my best. I left it all out there," Haney said. "I was more focused on the team winning anyway. That was more important to me."
The 2019 NCAA Division I men's golf championships selections announcement will take place on Wednesday, May 1 at 9 p.m. on Golf Channel's Golf Central and streamed live on the Golf Channel website. Six 54-hole regional tournaments will be conducted May 12–15 at six sites, including Pullman, Washington; Stanford, California; TPC Myrtle Beach in Murrells Inlet, South Carolina; Simpsonville, Kentucky; Athens, Georgia, and Austin, Texas.
The Raiders won Horizon League or MCC championships in 1996, 1997, 2000, 2003 and 2004 with a Mid-Continent (now the Summit League) title in 1993, making four NCAA appearances.