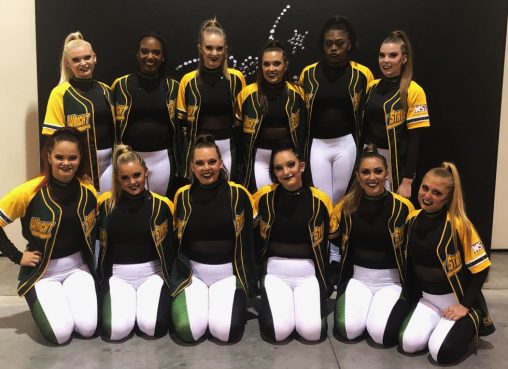 Wright State's dance team placed seventh in the 2019 National Dance Alliance competition.
The team, called Emerald Jazz, competed in the Division One hip-hop portion of the competition April 3–7 in Daytona Beach, Florida, against other collegiate dance teams across the nation. This is the first time in Emerald Jazz's history that it made it to the finals.
Joyce Whitaker, volunteer coach for the team, commended the dancers for their hard work. "They worked so hard, we have a really special group of young women," she said.
The team performed its routine several times throughout the weekend and spent several hours a day practicing. Lacey Loges, Emerald Jazz president, said she was excited to make it to the finals.
"There was a lot of crying and tearing up," she said. "We all were jumping up and down and hugging each other."
Several dance team alumni attended the competition to watch the students compete. Both Loges and Whitaker said the presence of the alumni was encouraging to the team.
"It was great to see everyone come to support the team," Whitaker said.
The dancers also enjoyed meeting other students and coaches from across the nation.
"Networking with the other teams was really great," Whitaker said. "Everyone was so gracious and they all wanted to see everyone succeed."
Loges said she strongly admires how hard the dancers prepared for the competition. Despite injuries and personal losses, the team kept working to earn a spot in the finals.
"We practiced everywhere," she said. "We practiced in the airport, in the grass, on concrete, anywhere we could practice, we did."
Whitaker commended Ashley Herman Dupps, another dance team coach, for assisting the team to prepare for the competition.
"She worked countless hours as well as tweaked our choreography to ensure our routine was competitive," Whitaker said.
The team's success this year has encouraged new interest and new tryouts as the dancers gained national recognition for their performance and hard work.