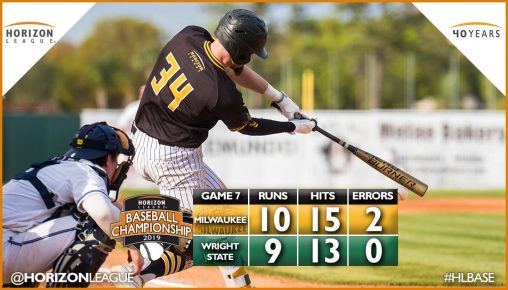 The Wright State baseball team was eliminated from the Horizon League tournament May 24 with a loss to third seed Milwaukee 10-9 at Nischwitz Stadium
Milwaukee advanced to the championship game against No. 2 UIC.
Player of the Year Peyton Burdick continued his hot hand with three RBI on two hits as senior Zach Weatherford picked up two RBI on a home run. JD Orr and Chase Slone also had two hits each. Starting pitcher Zane Collins took the loss as he struck out seven but allowed eight runs.
Wright State, winners of the regular-season Horizon League title, finished the season with a record of 42-17.
Earlier in the day, the Raiders also lost to UIC 10-6 in 10 innings.
Wright State, which was the top seed, opened the Horizon League tournament with a 15-3 win over Northern Kentucky on May 23.