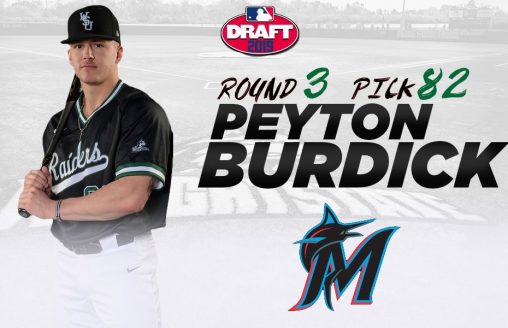 The 2019 Major League Baseball draft took place this past week from June 3-5, and when it was all said and done four Wright State University baseball players heard their names called.
These selections put an exclamation point on an already historic year for the Wright State baseball program. The Raiders won the Horizon League regular season title and went 42-17 overall this season, marking their third 40-win season in the last five years, something that had never been done before in program history. The 2019 Raiders also set new single season team records in home runs (67), RBI's (451) and stolen bases (169).
The first Raider to be chosen was outfielder Peyton Burdick, taken in the third round with the 82nd overall selection by the Miami Marlins.
Burdick was an offensive star for the Raiders all season, posting a final stat line of a .408 batting average, 15 home runs, 72 RBI and a whopping .538 on base percentage, which was the fourth best in the nation. Burdick was named a second-team All-American, as well as the Horizon League Player of the Year.
Not long after Burdick's selection, the Minnesota Twins took third baseman Seth Gray in the fourth round with the 119th overall pick.
Heading into the draft, MLB.com ranked Gray as one of the top 200 prospects in the nation. MLB.com said Gray "features plenty of strength in his 6-foot-3, 205-pound frame and has upped his power production as a junior. His soft hands and strong arm add to a solid defensive package."
Gray not only added power to his game, but he also had career highs in RBI, batting average and on base percentage. This led to Gray being selected for All-Horizon League first team this past season.
The Miami Marlins selected another Raider when they took J.D. Orr in the 10th round with the 291st overall pick. Orr, an outfielder, led all of Division I baseball in stolen bases with 60, setting the Wright State single season record along the way.
Wright State head coach Alex Sogard said Orr "will go down as the best base stealer in the history of our program, and I can't wait for him to continue that at the next level."
Orr showed an impressive ability to get on base this season, finishing with a .326 batting average and .460 on base percentage.
The final Raider to be chosen was Bear Bellomy, Wright State's ace on the mound this past season. He was taken in the 28th round with the 844th overall selection by the Pittsburgh Pirates.
Bellomy led the Wright State pitching staff in innings pitched, strikeouts and wins while posting a 3.57 ERA on the season.
Sogard praised Bellomy for his growth as a person and a player during his four years at Wright State.
"He's a guy who won't take no for an answer and he's worked his way into this position," Sogard said. "What an awesome day it is for him and his family and I couldn't be more ecstatic about him getting this opportunity."
All players drafted by Major League teams have until July 6 to decide to either sign with their team or go back to school if they are eligible to do so.