By Andrew Call, Nicole Craw, Jim Hannah and Bob Mihalek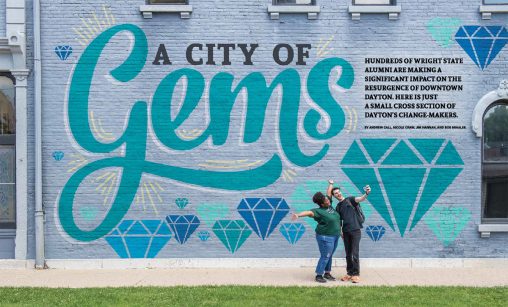 In 2008, the recession hit downtown Dayton hard. However, this presented an opportunity for the city to reinvent itself. In 2009, a group of business and community leaders came together to create a local, community-wide effort to build a real future for Dayton's urban core. More than 200 leaders — many of them Wright State alumni — gathered to create a plan to bring downtown Dayton back.
Now, downtown Dayton is thriving and hundreds of alumni have contributed immensely to downtown's success. Nearly 5,200 alumni work or live within downtown Dayton's urban landscape. They are taking leading roles in transforming Dayton back into the spearhead of industry and innovation it once was. Downtown Dayton is alive again.
Here is just 
a small cross-section of 
Dayton's change-makers.
Yevetta Hawley '09
Director of Nursing
Public Health–Dayton & Montgomery County
It's the best-kept secret in the city. That's the word from Yevetta Hawley '09, director of nursing for Public Health–Dayton & Montgomery County. "There are so many services — 60-plus services and programs that are under our umbrella," she said. "It's meant to be the safety net that is there to help the community when needed. Public Health workers are silent stewards. They are so committed to what they do." Hawley joined Public Health in 2013 after a 38-year career with Premier Health. As director of nursing, she oversees nurses who work in the immunization, tuberculosis and sexually transmitted disease clinics, as well as the clinics for refugees and children with medical disabilities. Hawley and Public Health work to improve the health and safety of downtown Dayton by educating residents about disease, providing free health testing, and monitoring environmental and climate conditions. She is also part of the Community Overdose Action Team and interacts regularly with downtown residents and workers. She has participated in downtown walks and helped organize Not a Single Pound, a weight-loss initiative over the Thanksgiving and Christmas holidays for employees of downtown businesses. "We try to take the pulse of downtown," she said.
Jeff Hoagland '00
President and CEO
Dayton Development Coalition
As president and CEO of the Dayton Development Coalition (DDC), Jeff Hoagland '00 is one of the driving forces in the economic revival of downtown Dayton, something he's incredibly committed to. The DDC coordinates the interests of private industry, developers, the state, the city and the 12 counties surrounding Dayton. Although the DDC also helps encourage projects at Wright-Patterson Air Force Base, downtown Dayton has become a larger part of its focus in recent years. "I remember going through Wright State's Master of Public Administration program when it was [called] urban administration and hearing [professor] Jack Dustin talk about the importance of the central city," Hoagland said. "I have seen what he told us play out 100 percent accurately. Around 2010, we started coming up with strategies to build a greater downtown. And, once downtown started getting a few wins, you could see how success breeds success." Working with JobsOhio, the DDC helped bring Taylor Communications, CareSource and General Electric downtown — and more than 2,000 jobs. "The new companies get the headlines, but 75 to 80 percent of our region's growth has come from existing companies, so our focus will be on how we can help them continue to grow," Hoagland said.
Alex Wilker '16
Manager, Corporate Partnerships
Dayton Dragons Professional Baseball Team
Since 2000, the Dayton Dragons Professional Baseball Team has sold out every home game at Fifth Third Field, an all-time record for U.S. pro sports. Forbes magazine in 2016 ranked the franchise's overall value No. 3 in all of minor league baseball. The Cincinnati Reds minor league affiliate has grown right along with downtown, and no one could be happier about it than Alex Wilker '16, manager of corporate partnerships for the team. "I have witnessed a hotel, multiple apartment complexes, restaurants and new business buildings being developed around Fifth Third Field," Wilker said. "Just walking into work each day, I have had the unique experience of observing these new buildings from the groundbreaking stage to the official opening." Wilker, who interned with the team during his senior year, is now the manager for more than 10 corporate partners. He also manages the Dragons' social media accounts and helps coordinate educational and community outreach programs. "One career goal I have always had is to be part of something bigger than myself, and I have fulfilled it by being part of the Dragons organization," Wilker said.
Dave Dickerson '84
President
Dayton Construction Sales and Development
Miller-Valentine Group
As market president and partner of the Miller-Valentine Group, a nationally recognized development and construction company, Dave Dickerson '84 has had a big hand in molding downtown Dayton and the surrounding areas into what you see today. "We have been excited to be part of the renaissance that's occurring downtown. I have worked downtown my whole career and love the optimism and energy," said Dickerson. With more than 25 years in real estate, Dickerson has worked with several Fortune 500 clients, organizations and corporations. In the past few years, Miller-Valentine has taken on projects that have shaped the downtown landscape, including the renovation of Wheelhouse Lofts, a 150-year-old historic building located near the Oregon District, and renovation of the old Post Office building. Current projects the group has under way include restoration of the iconic Dayton Motor Car Company building and converting the historic Barclay Building into a 10-story boutique hotel. "Miller-Valentine is thrilled to be part of this excitement and has committed to be part of this future growth," he said. The group and Dickerson himself are also active in philanthropy, having a hand in fundraising for the new outdoor music venue, Levitt Pavilion.
Richard Kaiser '08
Founder
Wilderness Agency
If you don't know Richard Kaiser '08, you've probably never been to downtown Dayton. Kaiser, founder of creative firm Wilderness Agency, came to a crossroads in 2018 when his business needed to relocate. But Kaiser knew exactly where to go. "We felt a strong pull to be in the urban core of Dayton," he said. "We thought it would be a path to both celebrate our uniqueness and tap into the strong vitality of this urban market." But perhaps the most impressive thing is the space itself — a converted 100-year-old factory, where their current main office space was formerly a dark garage. Kaiser and his team put more than 400 hours into renovating that space, from sandblasting the walls to expose the original brick to installing subflooring. They've crafted it into an urban oasis that's modern and open, where traditional desk spaces are combined with soft seating and coffee tables curated to support however their employees work best. "One of the main reasons we moved downtown was to be in the middle of this very collaborative side of Dayton where we're seeing a lot of creativity," he said. "We really wanted to use that as fuel to our fire."
Jeffrey Mims '75
City Commissioner
City of Dayton
Serving his second term on Dayton City Commission, alumnus Jeffrey J. Mims, Jr. '75, has been a mover and shaker when it comes to helping increase the vitality of downtown Dayton. Elected in 2013, he decided to run to serve his community. He and other commissioners have helped entice investors to construct housing and fill building vacancies, most recently to reopen the historic Dayton Arcade. The building is expected to become home to the Arcade Innovation Hub, shops, restaurants, and other businesses. He and the city have also paved the way for the new outdoor music venue Levitt Pavilion, which provides 50 free concerts each summer. Mims said it's one of his favorite things about downtown. "You cannot imagine the joy of providing high-quality entertainment in downtown Dayton for free," he said. "People are really enjoying the Levitt." Mims, an Air Force veteran who served in the Vietnam War, earned a master's degree in education from Wright State in 1975. "It was a great experience," Mims said. "Being an adult and having worked and been experienced in life made me see a higher value for education." Mims worked in Dayton Public Schools for 35 years and served as president of the Dayton Board of Education.
Eric Feltner '11
Assistant Principal
Dayton Early College Academy–DECA Middle
As the middle school assistant principal at the Dayton Early College Academy (DECA), Eric Feltner '11 helps lead the downtown location of a network of three charter school campuses. Founded in 2003, DECA was Dayton's first early college high school. DECA's graduation requirements include 100 hours of community service and three college courses. "We exist because we are trying to get more kids from the city of Dayton to college and help them succeed there," Feltner said. Educational options like DECA have helped make Dayton even more attractive to incoming businesses and residents — all residents. "One of the myths we have actively worked to dispel is that we hand-select students," Feltner said. "Not true. It is first-come, first-served to fill any open spots we have." DECA earned the Ohio School Innovation Award in 2017 and has earned a Best High School bronze medal from U.S. News & World Report six times. The school is featured on the U.S. Department of Education's Doing What Works website, and its model was recently replicated by Indianapolis. "The classes I took at Wright State included learning how leadership style impacts how you work with people," Feltner said. "It's not a one-size-fits-all approach at DECA, which I think people appreciate."
Sandy Gudorf '85
President
Downtown Dayton Partnership
Ten years ago, Sandy Gudorf '85 wanted to see change. After the economic downturn of the late 2000s, downtown Dayton was hit hard. Gudorf and her team at the Downtown Dayton Partnership — where she has worked for more than 25 years — put together a group of leaders to build a plan to drive progress in downtown Dayton. The Greater Downtown Plan was born. Implemented in May 2010, it quickly laid the roadmap for how the community would rally together to strengthen downtown. "We didn't call in a lot of out-of-town consultants," said Gudorf. "We created a true public/private partnership, understanding that a healthy and vibrant downtown is not only important to the city of Dayton, but the entire region." Gudorf said there were several key factors that drove the plan initially, but two of the most vital were keeping young talent from area universities like Wright State living and working downtown, and the rise in entrepreneurship and small business, especially the influx of independently owned restaurants and breweries. "I've seen the ups and downs of downtown," Gudorf said. "To see all this investment now, from large companies and investors to small mom-and-pop businesses who've decided this is where they want to fulfill their dream … it's just been incredible."
Judy Dodge '85
County Commissioner
Montgomery County
After a nearly 35-year career in politics, Judy Dodge '85 has found her niche. First elected to the Montgomery County Commission in 2006, her biggest passion project came after an event she attended for elected officials in 2010. She was given a benefits card and asked to buy food for a family for one week using the limited funds. "I was absolutely stunned that I couldn't do it," Dodge said. "I thought to myself, 'How do people do this?' So I started getting more involved in food insecurity." She formed a committee on food access and created the Market at Wright Stop Plaza, a location within the bus hub downtown where fresh fruits and vegetables are available for the bus riders throughout the week. In a partnership with local farmers, locally sourced produce is available to the public at market rate. Dodge has also been a strong supporter of other food-related initiatives, like the Gem City Market, the first full-service grocery store planned to open in the Salem Avenue corridor. "It makes me incredibly happy that we've been able to do positive things in Dayton," she said. "I will continue to educate, advocate, and build new partnerships to create a community that is free of food inequity."
Shaun Hamilton '13
System Director for Community Benefits
Premier Health
Courthouse Square is his favorite part of downtown Dayton. "There is a vibrant energy there," said Shaun Hamilton '13, Premier Health's system director for community benefits. "During the work week, you can go to the square and there are food trucks and entertainment on stage. This is what it feels like to be in a happening city. It gives you a sense of normalcy and decency that people can sit and be together." In his role with Premier Health, which operates a network of hospitals and health centers, Hamilton works closely with members of the downtown Dayton community, overseeing Premier Health's community benefits and its goal of increasing physical activity to stave off chronic disease. "Where you live, work and play has more to do with your health than what your hospital or doctor will do," Hamilton said. Premier has played no small part in the growing vibrancy of downtown. When Premier moved its corporate headquarters to North Main Street, it brought more than 1,000 employees. The company also helps sponsor Link, Dayton's bike-share program. And it is supporting the Gem City Market, a grocery co-op in west Dayton near downtown that is in the works. Hamilton believes the market will encourage more people to move downtown.
Chris Kershner '00
Executive Vice President
Dayton Area Chamber of Commerce
Growth in downtown Dayton is one thing, but another is developing the workforce to sustain it. That's where Wright State comes in, says Chris Kershner '00, executive vice president for the Dayton Area Chamber of Commerce. "Attracting and retaining a skilled workforce is the No. 1 issue for the business community," Kershner said. "We have higher education pathways here that are producing the people our workforce needs." The chamber represents more than 2,400 businesses in the 10-county region. Kershner's responsibilities include lobbying for the chamber on public policy, government affairs and economic development initiatives. "Downtown Dayton is experiencing a renaissance right now," Kershner said. "The pendulum is definitely on the upswing." Among the projects Kershner points to as evidence are the $30 million in planned renovations to a staple of downtown, the Kettering Tower; the more than $90 million planned redevelopment of the Dayton Arcade; the $100 million revitalization of the Fire Blocks District; and the opening of the RiverScape RiverRun kayak park. "To see the private involvement shows economic confidence," Kershner said.
Nan Whaley '09
Mayor
City of Dayton
For Nan Whaley '09, it's an exciting time to be mayor of Dayton. Over the last decade, downtown Dayton has seen a resurgence of development, with more than $1 billion invested in dozens of projects, including commercial, entertainment and residential uses. "It's great to be a steward during this time and continue to build," said Whaley, who graduated in 2009 with a master's degree in public administration. Whaley was elected to the Dayton City Commission in 2005 and successfully ran for mayor in 2013. She is now in her second term. A major goal for Whaley, other community leaders and Dayton residents was reached in the spring of 2019 when developers completed financing for a $90 million overhaul of the historic Dayton Arcade. The project includes $10 million from the city, Dayton's largest economic investment since the construction of the Schuster Center in the early 2000s, the Dayton Daily News reported. Longtime Daytonians have fond memories of the Arcade and its stunning rotunda, while those who are new to the area or too young to remember it are excited about its potential. "The Arcade is the most emotional building in the city of Dayton," Whaley said. The Arcade, which closed in 1991, will offer new housing, offices, restaurants, retail shops and space for public events. The complex's anchor will be the Arcade Innovation Hub, which will provide space for entrepreneurship and education programs. "For us to really invest around entrepreneurship and to make sure we're trying to support those with ideas is the key for the future of this economy," Whaley said. "I think it's a great juxtaposition of an old building with a lot of history that will bring new life and rebirth into Dayton's economy." Other projects that have increased the development of downtown include the new downtown Dayton Metro Library; Levitt Pavilion, which hosts free concerts in the heart of downtown; the Water Street District, which features commercial space, housing and a hotel near RiverScape and Fifth Third Field; and numerous residential developments. She credits the use of different tools like tax credits and state and federal grants, along with renewed interest in urban living and shopping locally, especially by young people, for downtown's resurgence. "They want local experiences that are unique, and downtown offers that," she said. "I think all of these trends bode well for us in the core — and that's a really new feeling — for the first time in 50 years." That's one reason Whaley says downtown is the hottest housing market in the region, with close to 98 percent current rental occupancy. "If we want to attract and retain the talent of our young people, we have to have a strong urban core, not just for Dayton but for the entire region," Whaley said. The diversity found in downtown Dayton is not only something the community values but also helps attract people to the city. "We know that young people and folks who have new ideas value that diversity of thought because it helps new ideas come out," she said.
Resources
Public Health–Dayton & Montgomery County | phdmc.org
Dayton Development Coalition | daytonregion.com
Dayton Dragons | milb.com/dayton
Miller-Valentine Group | mvg.com
Wilderness Agency | wildernessagency.com
City of Dayton | daytonohio.gov
DECA Schools | deca.org
Downtown Dayton Partnership | downtowndayton.org
Montgomery County | mcohio.org
Premier Health | premierhealth.com
Dayton Area Chamber of Commerce | daytonchamber.org
This article was originally published in the fall 2019 Wright State Magazine.