Renal physiologist Clintoria Williams, an assistant professor at Wright State University, graces the cover of The Physiologist Magazine, the international publication of the American Physiological Society.
The society has more than 10,000 members, most of whom hold doctoral degrees in medicine, physiology or other health professions. The publication is sent to every member of the organization.
It's just the latest accolade for Williams, who recently made national and international headlines when her research linking zinc deficiency to high blood pressure was published by the American Journal of Physiology. Publication of the Williams-led research led to online articles by Science Daily, Medical News Today, Cardiovascular Business, The Health Site and other media outlets.
In its September edition, The Physiologist Magazine names Williams as among the "now" generation of scientific trailblazers and features her in a question-and-answer article with faculty members and a postdoctoral fellow from four other universities.
Williams is an assistant professor in the Boonshoft School of Medicine and the College of Science and Mathematics as well as director of the Small Animal Physiology (SAP) Core.
In her interview with the magazine, she said she believes there is an expectation in academia for graduate students to become mini versions of their professors or mentors.
"But my philosophy is to love what you do, do what you love," she told the publication. "So it's important to develop your own niche through which you can contribute to a scientific team."
Williams said the most challenging professional obstacle she has faced is going from the day-to-day experiments to becoming a "lab-preneur."
"I feel like we're in the business of science now; we're running small companies," she said. "It's a steep learning curve for us all."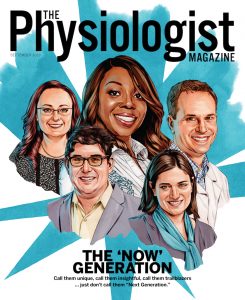 Williams developed a passion for science at a young age. Growing up in Alabama and Georgia, she was raised by her mother, who worked as a nurse. As a young girl, Williams wanted to become a physician.
After graduating from Jefferson Davis High School in Montgomery, Alabama, Williams enrolled at Clark Atlanta University in Atlanta in the pre-med program. She quickly found that she had a passion for research. After one of her professors allowed her to do research in his lab, she landed an internship at the Atlanta Waterworks System, where she worked in its microbiology department. She took on a research project that resulted in her presenting her results at an international meeting.
After earning her bachelor's degree in science at Clark Atlanta, Williams went to graduate school at the University of Alabama in Birmingham, where she majored in cellular molecular physiology and began studying the relationship of zinc to diabetes.
After graduating with her Ph.D. in cellular and molecular physiology in 2008, Williams took a postdoctoral position at Emory University in Atlanta to study diabetes and then a second postdoc to study how diabetes affects the kidneys. She later became an assistant professor of physiology and began to look at how zinc controls high blood pressure and how zinc deficiency contributes to kidney damage.
Williams joined the faculty at Wright State in 2018.