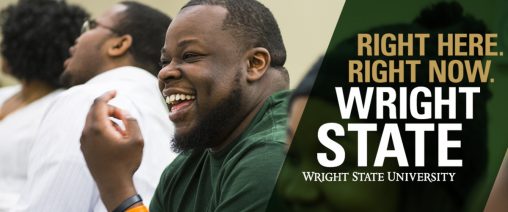 Wright State University will hold a Graduate School Open House on Wednesday, October 30, for those who are thinking about building, enhancing or even changing careers. The event will be held in the Student Union Apollo Room from 5 to 7 p.m.
The open house is the perfect opportunity to meet Wright State's nationally distinguished faculty members and learn about more than 140 certificate, master's and doctoral programs. Plus, the $40 Graduate School application fee will be waived for those who attend the open house.
Faculty and representatives from the following academic areas will be on hand to talk about their degree and certificate programs, as well as answer questions:
Business
Education and Human Services
Engineering and Computer Science
Liberal Arts
Medicine
Nursing and Health
Professional Psychology
Science and Mathematics
Wright State offers a wide variety of advanced degrees, whether individuals are looking for a degree that is professionally based or research focused.
The university also offers a mixture of class styles and times designed to fit its students' busy lives and responsibilities. Graduate students can go part time or full time and take classes online, in-person or a combination of both. Some master's degrees can be completed in as little as one year or completely online.
Graduate-level certificate programs provide focused training in a specialized area and can typically be completed in one year or less. In addition, certificates are normally comprised of courses that can be used toward a degree later on and feature a simple application process.
Doctoral programs are built upon the foundation of a strong graduate faculty and research productivity and are relevant to the needs of the greater Dayton area, while contributing to the intellectual capacity and economic advancement of Ohio.
Visit the Graduate School website to learn more or register for the open house online.