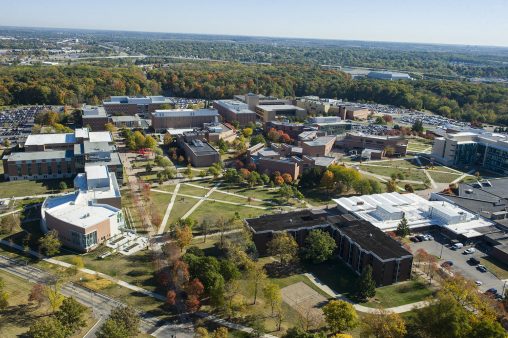 It pays to live close to Wright State University.
Wright State is offering a new Academic Performance Scholarship for first-year students who graduate from high schools in Montgomery and Greene counties. The award is $2,000 and renewable for four years.
The new Montgomery Greene Scholarships will be awarded beginning fall semester of 2020.
"We wanted to do something extra for the students who go to high school right in our own back yard," said Jennifer McCamis, director of admissions. "These local students are very important to us, and we want to make sure they know we care about their education and future success."
To be eligible for the scholarship, incoming students must graduate from an Ohio high school in Montgomery or Greene counties and achieve a minimum composite score of 55, based on Wright State's scholarship funding formula. The formula incorporates a student's high school grade point average and ACT composite or SAT math and evidence-based reading and writing scores to measure overall academic performance.
The First-Year Scholarships website has a convenient calculator where prospective students can plug in their cumulative high school grade point average and ACT or SAT score to determine their possible eligibility for the new Montgomery Greene Scholarship, as well as other Academic Performance Scholarships.
No scholarship application is required. Priority consideration will be given to students who apply for undergraduate admission and are admitted by Feb. 1, prior to the start of the academic year.
"This is just one more way that Wright State supports our local communities," added McCamis.
Wright State's First-Year Student Scholarships program is merit-based and designed to recognize academically outstanding and creatively talented students. Scholarships range in value from $500 to $20,000.
More than 2,000 new freshmen were offered over $8 million in scholarships for the 2019–20 academic year.
Wright State also offers several other Academic Performance Scholarship opportunities to eligible students who enroll directly from high school. These scholarships range from $2,000 to full in-state tuition and on-campus room and board per year. Plus, they are renewable for four years.
Prospective students are invited to attend Raider Open House on Saturday, Nov. 2, from 9 a.m. to 12:30 p.m. to learn more about Wright State's academic programs, campus services, financial aid, housing and more.
Named for the Wright brothers, aviation pioneers who taught the world to fly, Wright State offers students an exceptional education that helps them discover their own potential. With 150 undergraduate programs, students are sure to find a major that fits their interests and career goals.