Graduating students and their families celebrated the culmination of their education at Wright State University Dec. 14 during the 2019 fall commencement ceremony at the Wright State Nutter Center.
Wright State University President Cheryl B. Schrader addressed the class and called attention to the resolve of Wright State's students and the broader community after facing many challenges in the past year.
"Dayton is strong. Wright State is strong," said Schrader. "Strength and tenacity are part of Dayton's DNA. Remember, long before any of us were here, Dayton changed the world."
View the Newsroom's fall commencement photo gallery.
Evoking the achievements of Charles Kettering, Ermal Fraze, Neil Armstrong and the university's namesakes Wilbur and Orville Wright, Schrader connected their legacy to that of contemporary Wright State alumni also achieving on the world stage.
"Alumni like Joe Jessup, who helped create Amazon's Alexa. Or Hannah Beachler, the first African American to receive an Academy Award for Best Production Design for 'Black Panther.' Or Nella Ludlow, who recently returned to Wright State to teach a course in quantum computing," said Schrader.
"Today, you follow in the footsteps of all of the great innovators who have gone before you," she said. "And you join the ranks of more than 113,000 Wright State alumni who are making a difference throughout Raider Country, all over Ohio, across the nation and even around the globe."
Schrader described unique stories of achievement from four standout graduates while also sharing that the celebration was bittersweet as it would be her last Wright State commencement that she would preside over as president.
"As I approach my retirement, what I will miss the most are my daily interactions with our students," said Schrader. "What won't change is my love and passion for Wright State. Class of 2019, I hope all of you will join me in being ambassadors for our great university."
"One day, young boys and girls will look up to you and say, 'They came from my hometown. They came from Wright State. They came from Dayton, and I want to be just like them,'" she said. "Congratulations, class of 2019! Now go out into the world and shine!"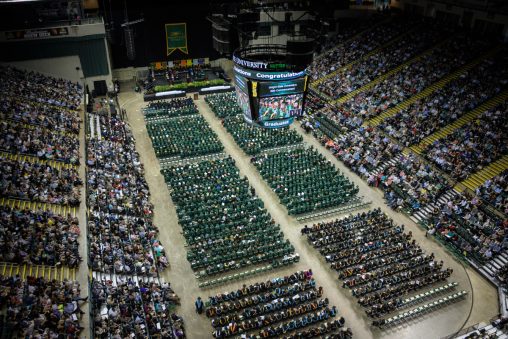 The class of 2019 included graduates with 925 bachelor's degrees, 452 master's degrees, 47 doctoral degrees and 16 associate degrees.
The class featured 132 international students from 20 different countries. India boasted the largest number of foreign graduates, with 63. The youngest graduating student was 18, earning a bachelor's degree in political science. The oldest student was 80, earning a master's degree in humanities.
Graduates by college:
College of Education and Human Services: 250
College of Engineering and Computer Science: 286
College of Liberal Arts: 209
College of Nursing and Health: 90
College of Science and Mathematics: 179
Raj Soin College of Business: 309
Lake Campus: 41
Notable class of 2019 graduates
Faith White
Faith White was a biology major who serves in the Army ROTC and after graduation will be commissioned as an officer.
In 2017, she interned with the Center of Microbial Pathenogenesis at Nationwide Children's Hospital in Columbus, comparing the DNA of bacteria. At the end of her four-month-long internship, she made a presentation of her work to the scientific community.
The following year, White was accepted into the Cultural Understanding and Leadership Program and assigned to the African nation of Madagascar. She trained with Madagascar's military cadets and helped teach English.
White says she wants people to remember her name and associate it with her hard work and perseverance.
"I entered college by myself and now I'm graduating with new friends who I now consider family," she said. "Wright State holds their students to high expectations, which forced me to be accountable for my schoolwork and time management."
After graduation, White intends to serve at least four years of active duty in the U.S. Army and hopes to be assigned to the Medical Services branch. Her career dream is to become a physician.
Denis Barry Jr.
Denis Barry Jr. graduated with a bachelor's degree in geography. Last year, he won first place for his research poster during the annual meeting of the East Lakes Division of the American Association of Geographers. His poster stemmed from his research into poverty in Appalachian Ohio on a county level.
As a result of his presentation, he was recruited to master's degree geography programs at The Ohio State University, Central Michigan University, Western Michigan University and several other schools.
Barry worked his way through college with various jobs, including an internship working in geographic information systems at Wright-Patterson Air Force Base.
He is also a member of the Wright State Pep Band, where he primarily plays the tuba. But he has taught himself to play virtually every musical instrument — from the piano to the guitar to the clarinet and saxophone.
After college, Barry would like to do something in the urban planning field or find a job in data management or in academia.
Hunter Whitt
Hunter Whitt received a bachelor's degree in communication and a minor in health communication.
Having cerebral palsy, which affects mobility, presented extra challenges. But Whitt says the university was able to provide him with the support and resources he needed to become independent and confident.
Whitt also took advantage of opportunities outside the classroom. As a member of the Alpha Sigma Phi fraternity, he participated in the annual Raiderthon, a fundraising dance marathon in which proceeds go to Dayton Children's Hospital. And last summer he interned in Maryland helping people with disabilities find jobs.
After graduation, Whitt wants to work as a school counselor and eventually seek a graduate degree in school counseling. His goal is to help students who may not have support to pursue higher education or careers.
Aman Ali Pogaku
Aman Ali Pogaku graduated with a master's degree in computer science.
During his time at Wright State, Pogaku has become an expert in blockchain technology, a decentralized database to secure transactions, with potential applications in everything from finance to food safety.
Pogaku has written 17 different blog posts about blockchain technology and spoken at national blockchain and technology conferences in Boston and Fort Lauderdale, Florida.
Pogaku said Wright State gave him a strong foundation in computer science.
"The coursework projects give sufficient hands-on experience to help graduates secure a proper job in the industry," he said. "And the environment, flexibility and facilities provided at the university helped me conduct master's thesis research in the blockchain domain."
After graduation, Pogaku wants to work as a software engineer in the blockchain domain of the IT industry.