Excerpt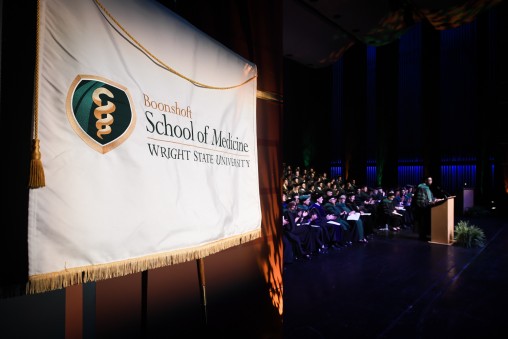 A small group of students at Wright State University Boonshoft School of Medicine will be able to complete their doctorate in three years under a new program.
Students admitted to the three-year track, which normally takes four years, will receive conditional admittance to a Wright State University residency program, starting with the Departments of Family Medicine and Pediatrics.
Up to four students per year will be selected for the two spots in family medicine and the two spots in pediatrics.
Other Wright State specialties may eventually add three-year track options as the effort gets underway. The Boonshoft School of Medicine has been approved to allow up to 10% of the students in each class to be in a three-year track.
"This is a win-win option for a select group of students who know they want to stay in Ohio for residency and practice either family medicine or pediatrics," stated Dr. Brenda Roman, associate dean for Medical Education.
The Wright State University Boonshoft School of Medicine has more than 480 medical students and 465 residents and fellows in 13 specialty areas and 10 sub-specialties.
Wright State said in an announcement about the program that the students will graduate with less debt due to finishing medical school in just three years. The average four-year cost for public school students is $243,902, according to a 2018 report by the Association of American Medical Colleges, and about 76% of students graduate with debt.
Interested medical students will apply for the three-year track in January of their first year.
One major difference between the three-year track and the traditional curriculum is that accelerated students do not take electives. Students in the three-year track will always have the option to opt out and return to the traditional curriculum prior to the match.
The program may be particularly appealing to non-traditional students at the Boonshoft School of Medicine who already have strong backgrounds working in the medical field, according to Wright State.
View the original post at daytondailynews.com