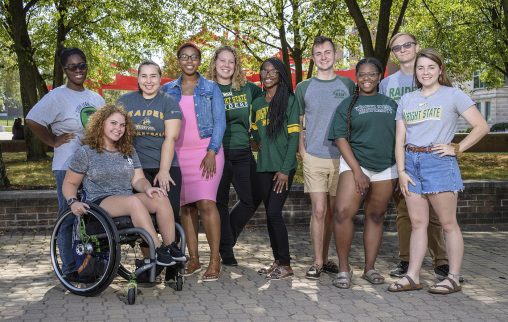 Wright State University students who encounter bias-related incidents can turn to a group of faculty, staff and students for support and resources.
The Bias Incident Response Team (BIRT) at Wright State evaluates and responds to bias-related incidents, especially for issues that fall beyond the scope of university policy or procedures. The team works to create a climate that fosters civility, community standards, student development, academic freedom, freedom of expression and diversity.
"We're here to foster respect, we're here to foster civil discourse. I want people to see each other as individuals and not just stereotypes," said BIRT team member Patricia Schiml, senior lecturer and research professor in the Department of Psychology in the College of Science and Mathematics.
"College is such a wonderful opportunity for folks to grow and learn in new ways and this is just a way that we foster that spirit. We want people to learn and grow," said team member Sarah Peters, staff therapist with Counseling and Wellness Services and liaison for Residence Life and Housing.
A bias-related incident is any event directed toward an individual or group based upon actual or perceived identity characteristics or background, including but not limited to: race, sex (including gender identity or expression), color, religion, ancestry, national origin, age, disability, veteran status, military status or sexual orientation. Such acts may result in creating a hostile environment and may have a negative psychological, emotional or physical impact on an individual, group and community. Bias-related incidents occur without regard to whether the act is legal, illegal, intentional or unintentional.
College is a place where students can grow and recognize parts of themselves that may have been inhibited in their families or communities, BIRT team members say. It is important, they say, to have a group at Wright State that helps community members see other individuals not as stereotypes but for who they actually are.
"We still can't escape some of the tendencies that tend to be in a biased fashion toward one another," Schiml said.
BIRT members are also cognizant that the divisive nature of the United States' political environment can affect the Wright State and Dayton communities.
"We want to make sure that students know that we are here, both to proactively facilitate discussions as well as mediate conflict," Peters said.
The Bias Incident Response Team is made up of a diverse group of faculty and staff members and a few students from across the Wright State community.
"We try to make sure we have representation on the committee that looks like the people who may be affected by bias incidences," Schiml said.
"Everyone is on this committee because creating an inclusive campus climate is important to us," Peters said. "We all come at this work with a different lens. We all come at it from equally valid and different perspectives. And it is so nice to see such a diverse group work together cohesively."
BIRT would like to increase the number of students on BIRT. Student organizations interested in the team's work should contact Sarah Peters at sarah.peters@wright.edu.
BIRT members are present when groups or individuals visit campus to share views that some may consider offensive or hate speech. During these incidents, BIRT team members will make sure "our students know they are seen, they are valued, they are cared for," Peters said. "Our goal is to facilitate more positive ways of engaging rather than directing attention to conversations or interactions that are harmful or counterproductive."
BIRT has also organized campus activities such as forums on the First Amendment; interactive learning exercises about discrimination in the medical field for medical students; and programming with Residences Life and Housing, the Muslim Student Association and the Office of LGBTQA Affairs.
"Wright State is a wonderful place but there is always work to be done," Peters said.
Anyone who is the victim of physical violence, whether to their person or property, should file a report with the Wright State Police at 937-775-2111.
Students, staff or faculty who experience, witness or become aware of a bias-related incident should report the incident online at wright.ethicspoint.com.
Although the university's EthicsPoint portal is anonymous, those who file reports through the website can elect to be contacted by a BIRT member who can provide support and information about available resources.
"I encourage students to speak up about things they're not happy with, problems they see on campus as far as bias goes, "Schiml said.