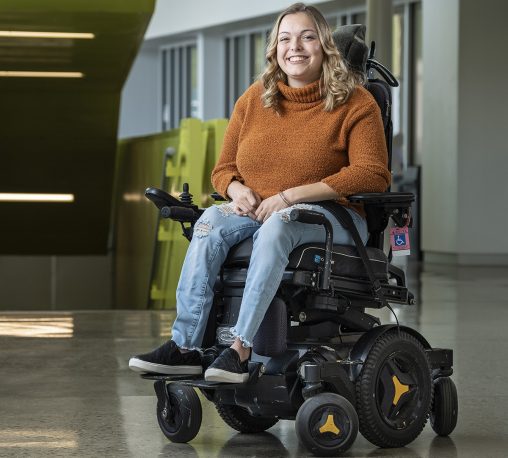 Renee Dollenmayer is the definition of "involved."
Any weekday on campus, you can find her attending a meeting for a student organization she is involved with, helping to organize a drive or fundraiser for her sorority, or just letting her voice be heard with fellow student leaders or faculty advisors.
Dollenmayer is studying rehabilitation services within the College of Education and Human Services. She says she has always enjoyed working with children and is considering a career in pediatric rehabilitation.
Although busy with her coursework, Greek life is a huge part of Dollenmayer's time on campus. She is a member of Kappa Delta and says she greatly enjoys her community of sisters.
"I never thought I'd go through recruitment—but I did it," she said. "We're all so supportive of each other."
Dollenmayer serves as the Kappa Delta chaplain, running a weekly Bible study. She says being engaged with the religious community is a great way to meet new people.
"It's cool to get to know people from all over campus," Dollenmayer said. "Diversity is incredibly important and it's great getting to meet all different types of people."
Dollenmayer is also a morale captain for Miracle Makers, which organizes Raiderthon, the annual dance marathon that encourages students to be on their feet for 15 hours to raise money for the Children's Miracle Network. Dollenmayer dances on stage and encourages other students to keep up with her.
Students raised $58,056 for Children's Miracle Network during the seventh annual event in November. This money will benefit patients at Dayton Children's Hospital. Raiderthon has raised more than $335,000 total for Dayton Children's.
While she agrees that Raiderthon is an amazing cause, Dollenmayer also loves that it brings out her passion for dance. She spent much of her childhood at her grandmother's dance studio and is part of the Rollettes, an international all-women wheelchair dance group. Each year, the Rollettes host a dance-intensive camp that draws women from all over the world. This year, Dollenmayer said, women from 10 countries attended.
"People come from all over the world," she said. "I love it."
Dollenmayer says she hopes to start a wheelchair dance group at Wright State to celebrate dancers of all abilities.
She has cerebral palsy and a chronic pain disorder, but doesn't let that stop her from spreading joy wherever she goes.
"It's such a gift to work on campus with all these different organizations," she said. "I wouldn't want my life any other way."
Dollenmayer encourages other students to get to know each other and talk to each other around campus.
"Even just saying hi when you're walking to class, that can brighten someone's day," she said.
This article was originally published in the spring 2020 issue of the Wright State Magazine. Find more stories at wright.edu/alumnimag.