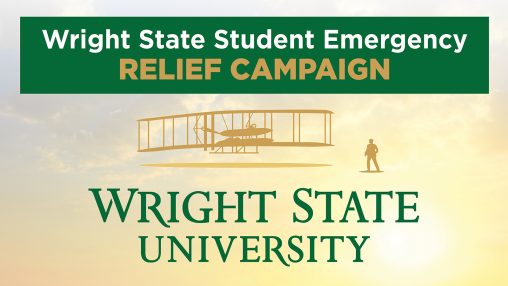 Since it was launched on March 20, the Wright State Student Emergency Relief Campaign has generated $21,078 in gifts from 284 donors.
"We have been absolutely overwhelmed by the response of our Wright State University family," said Bill Bigham, interim vice president for advancement. "The support that our alumni, faculty, staff, parents and friends in the community have provided is amazing. Even some of our current students have made gifts to help out their classmates. We are grateful to everyone for their incredible generosity during this unprecedented time."
Donate to the Student Emergency Relief Campaign.
JJR Solutions was one of the first corporate partners to step up and support the campaign. Headquartered in Dayton, JJR Solutions is a service-disabled, veteran-owned small business that improves the health, well-being and security of our communities and nation through insight, improvement, management and digital services for government clients.
"As a graduate of Wright State University, it was important to give back to the university that did so much for me and does so much for our local community," said David Judson Jr., president and CEO of JJR Solutions and a 1988 graduate of Wright State. "We are hopeful and prayerful that our donation will help students in need get through this difficult time."
For every 100 donors that make gifts of $10 or more to the campaign, the Wright State University Foundation will contribute an additional $1,000. So far, the foundation has made $2,000 in challenge grants.
"We greatly appreciate the support of the Wright State University Foundation," said Bigham. "Our foundation board and staff are completely committed to the health, well-being and continued success of our students. Their challenge grants have been absolutely essential to the outcome of this campaign."