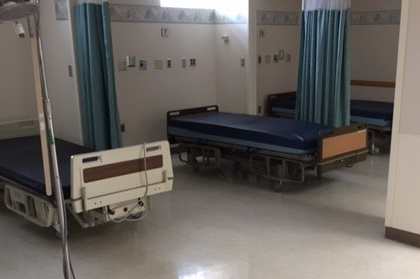 Eleven patient beds used to teach nursing students at the Wright State University Lake Campus have been loaned to a local hospital to help deal with the spreading coronavirus (COVID-19) pandemic.
The beds were transported from the College of Nursing and Health on April 1 to Mercer Health, a hospital in the western Ohio village of Coldwater. Transportation was provided by Celina Moving and Storage, which donated the time, labor, truck and fuel.
Lynn Franck, clinical instructor and director of the Lake Campus nursing program, said Mercer Health has been a key contributor to the program.
"They have graciously donated beds, equipment and supplies as well as provided substantial financial support to the program," said Franck. "It is such a good feeling to be able to reciprocate a good deed back to Mercer Health in a time of need and continue to work with them in community partnership."
Mercer County Community Hospital in Coldwater anchors a network of more than 75 affiliated physicians and eight strategically located medical centers and offices in Celina, Coldwater, St. Henry and Ft. Recovery. Mercer Health employs more than 600 people in and around the area.
In addition to the beds, the Criminal Justice Police Academy at Lake Campus will donate 1,500 pairs of protective gloves to Mercer Health and 500 gloves to the Wapakoneta Police Department.
Commander Mark Ernst said he expects the donations to be made next week.
Colleges are poised to become major warriors in the fight against coronavirus. To slow its spread, Amy Acton, director of health for the Ohio Department of Health, has ordered the state's public universities to make available grounds, buildings and facilities for temporary use.
Ohio hospitals are expected to receive 6,000 to 8,000 new cases a day when the coronavirus pandemic peaks across the state in mid-May.
Wright State University's largest-ever class of nursing students will be able to help with the pandemic sooner than expected thanks to the emergency use of temporary licenses.
The State of Ohio will issue temporary licenses for students who complete a nursing program but are unable to take licensing tests due to testing centers closing because of the coronavirus.
That means Wright State nursing students who graduate in May will be able to start work without having to wait for the Ohio Board of Nursing testing centers to re-open.
Last week, the College of Nursing and Health donated more than 250 boxes of surgical masks, gowns, gloves and other items to local hospitals to help protect health care workers from the coronavirus.
The Wright State University-Miami Valley College of Nursing and Health was recently named one of the nation's top nursing schools by Nursing Schools Almanac. The college is ranked No. 16 in Ohio and No. 80 in the entire Great Lakes Region for 2019. More than 95% of Wright State nursing students pass the National Council Licensure Examination (NCLEX) the first time they take it. NCLEX is a nationwide examination for the licensing of nurses.
The College of Nursing and Health is committed to excellence in nursing education and providing competent nursing professionals to the Dayton and Lake Campus regions and throughout Ohio. Nursing faculty provide an exceptional curriculum and lab simulations, while community partners offer clinical experiences that prepare students for a multitude of nursing roles.