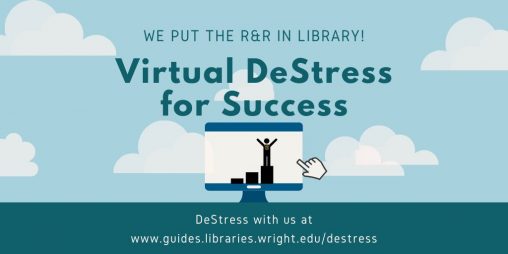 Fun activities, videos of puppies, storytelling and meditative practices are available virtually to help students deal with stress at the end of the spring semester.
Wright State University Libraries created an online guide filled with resources to help students who may feel stressed and have anxiety, said Heather Back, student success librarian.
"The end of the semester is always a stressful time and taking time to unwind helps students feel mentally prepared for finals," Back said. "DeStress is a wonderful way for the library to support the students who keep us going!"
The guide is available at guides.libraries.wright.edu/destress.
The University Libraries moved its DeStress for Success program online to support students who are studying, completing projects and taking exams at home. Finals week at Wright State takes place April 27 to May 1.
"DeStress for Success is just one way the University Libraries supports student success," said Sue Polanka, university librarian. "We can't offer our services in person this term, so our virtual DeStress for Success program offers students various self-care activities during the end of term crunch."
The guide includes free coloring sheets and connect-the-dot puzzles that students can print or complete online.
Students who miss playing with puppies from 4 Paws for Ability can watch puppy videos from the student organization and view photos of library staff members' pets.
Students can visit the guide to learn more about how to meditate and find music to listen to while meditating or studying.
The guide also includes links to stories read by LeVar Burton, Dolly Parton, Betty White and Wright State's own storyteller, Mrs. Flutterbutter. Mrs. Flutterbutter will read an uplifting story live on the Dunbar Library's Facebook page on Wednesday, April 22, at 1 p.m. and on Instagram on Tuesday, April 28, at 1 p.m.
The guide also features links to other helpful resources including Counseling and Wellness Services and Campus Recreation, which is producing workouts that students can do at home.