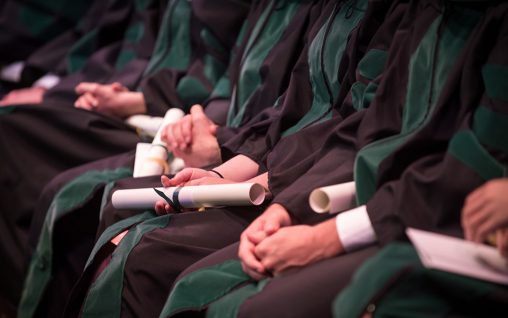 The Wright State University Boonshoft School of Medicine will hold its annual graduation ceremony on Saturday, May 2, at 2 p.m. The ceremony will be presented virtually for the first time via live stream. This year's graduating class includes 103 medical students.
John Donnelly, M.D., professor of family medicine, will deliver the commencement address. Donnelly has filled many roles in medical education throughout his career, including predoctoral director, family medicine clerkship director, fourth-year preceptorship director and residency program associate director. He reached the rank of professor in 2011.
Donnelly graduated from the University of Texas (UT) Medical School at Houston and completed his family medicine residency at Memorial Hermann-Texas Medical Center. He served on the faculty at UT-Houston from 1988–97 before joining the Department of Family Medicine at Wright State University.
He is a founding course director of the Healer's Art course and Finding Meaning in Medicine program, which promote humanism and professionalism in medicine. He is married with three children.
The Boonshoft School of Medicine graduation ceremony can be streamed online here.
The Wright State University Boonshoft School of Medicine is a community-based medical school affiliated with eight major teaching hospitals. The medical school educates the next generation of physicians by providing medical education for more than 480 medical students and 465 residents and fellows in 13 specialty areas and 10 subspecialties. Its research enterprise encompasses centers in the basic sciences, epidemiology, public health and community outreach programs. More than 1,700 of the medical school's 3,532 alumni remain in medical practice in Ohio.