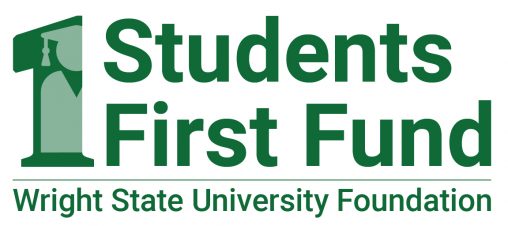 A micro Raman spectroscopy instrument for the Department of Chemistry, an experiential learning project for agriculture students at the Lake Campus, and new pianos for the Department of Theatre, Dance, and Motion Pictures are among the projects that have been approved for the latest round of Students First Fund grants.
Launched in January 2019, the Students First Fund was created by the Wright State University Foundation Board of Trustees to be proactive in seeking and funding innovative ideas that enhance the Wright State student experience.
"We were really impressed with the quality of the applications that we received," said Dave Deptula, chair of the Students First Fund grants committee. "The 12 projects that were selected for funding will have far-reaching impacts on both the Dayton and Lake campuses."
Twenty-six grant applications were submitted for $50,000 in available funding.
"The Students First Fund grants committee is happy to support these innovative projects that further enhance the Wright State student experience," said Deptula. "We would like to thank all of the faculty, staff and students who took the time and initiative to submit a proposal. The applications clearly showed how committed the Wright State community is to helping students thrive and grow."
The following 12 projects were approved for Students First Fund grants, with awards ranging from $2,000 to $8,000:
Coffee and Career Planning Mobile Beverage Cart — Career Services will periodically travel around campus promoting the importance of career planning and offering coffee, tea and cold beverages to students on a mobile beverage cart. Being mobile will give Wright State students more opportunities to interact with Career Services staff and further enhance their career planning and preparation.
Giving a New Life to STEM City — STEM City in Hamilton Hall will be a collaborative space where new students will be able to connect with other students, faculty and staff in the STEM disciplines. Students will receive structured academic and social programming, access to specialized technology and educational resources to increase their academic and professional success. The College of Science and Mathematics hopes that STEM City will increase the number of STEM majors living in Hamilton Hall to 150 or more by fall 2021.
Finding Our Voices — Under the direction of the ONEIL Center for Research Communication, students will learn how to create content in their preferred medium — such as articles, illustrations, photos, videos or podcasts — to build a portfolio of work. Finding Our Voices is designed to deepen the engagement of students, provide training and mentorship and strengthen the connections of students to the broader community. An annual showcase will celebrate the work of students and provide valuable networking opportunities.
Cultivating Experiential Learning in Agriculture — Students in the agriculture program at the Lake Campus will be able to practice their skills and apply their knowledge in the field of precision agriculture. New equipment at the Pasture Demonstration Site will provide real-life learning opportunities for students by simulating situations they may encounter in the workforce after graduation.
The Piano Project — Pianos are the most frequently used educational equipment in the Department of Theatre, Dance and Motion Pictures, and they are in a state of near collapse from constant use. The department will purchase two new pianos to accompany approximately 200 students weekly as they perform in classes, participate in private singing lessons and attend rehearsals.
Raman Instrument — The Department of Chemistry will purchase a micro Raman spectroscopy instrument, a cutting-edge chemical analysis tool, to be used by over 400 students in undergraduate chemistry classes and 200 graduate science education majors. Along with learning novel technology, students will expand their problem-solving skills and test varying hypotheses.
Event Check-in — A check-in app, added to the Engage platform, will help the Office of Student Involvement and Leadership gather insight on students' interests in attending events, meetings, recreation opportunities and trainings. Each student will have a unique QR code that can be read when the student checks into an event using their personal mobile phone. The check-in app, which will be available for every department on campus, will provide valuable information on student engagement.
Academic Ableism and Its Alternatives — The Office of Disability Services will host, and record for future viewing, a workshop for faculty, staff and administrators to create greater sensitivity and awareness of students with disabilities and the unconscious behaviors that can be alienating to the disability community. The workshop will feature Jay Dolmage, professor at the University of Waterloo and author of "Academic Ableism: Disability and Higher Education."
Books for Books — A collaboration between the Department of Economics, the Department of English Language and Literatures, the English Club, and Omicron Delta Epsilon – International Honors Society for Economics will challenge students to identify children's books that capture concepts discussed in their majors. In return, students will receive a popular book in their field of study to encourage them to think creatively about their discipline. The list of reward books and children's books and concepts will be compiled and made available online.
Mobile Workshop Stations — The Student Retention Team will purchase equipment to conduct mobile workshops on campus to promote best classroom behaviors, habits for success, positive student and faculty interactions and general acclimation to college life. This enhanced onboarding initiative will specifically target improving retention of students between their freshman and sophomore years.
Raider STEM Stations — Teacher candidates will collaboratively develop STEM-based, hands-on lessons that encourage elementary school students to utilize critical thinking and problem-solving skills. The teacher candidates will then deliver their lessons in three local elementary schools, gaining valuable early exposure and experience in elementary education. The lesson plans will also include take-home activities to promote continual learning. This initiative will be led by the Office of Partnerships and Field Experiences.
Unicornship Peer Mentor Program — Spearheaded by the Office of LGBTQA Affairs, the Unicornship Program will be redesigned to help LGBTQA+ students reach their personal, academic and social goals by pairing first-year mentees with upper-class student mentors and community engagement coordinators. The program encourages a sense of belonging among LGBTQA+ students and empowers them to face misunderstandings and discriminatory challenges by connecting them with student mentors who can help them navigate through these difficult situations.
"While we received many outstanding applications for Students First funding, the grants committee felt that these 12 initiatives best represented the intention of the Students First Fund, which is to support projects that promote student success, community engagement and leadership development," said Deptula. "In addition, many of these projects also support the university's commitment to recruitment, retention and relationships."
Scott Rash, president and CEO of the Wright State University Foundation, said the foundation board has committed to funding the Students First grants program for at least one more year.
"We are happy to support this innovative program to help Wright State students succeed," said Rash. "We look forward to receiving our next round of applications in 2021."