Excerpt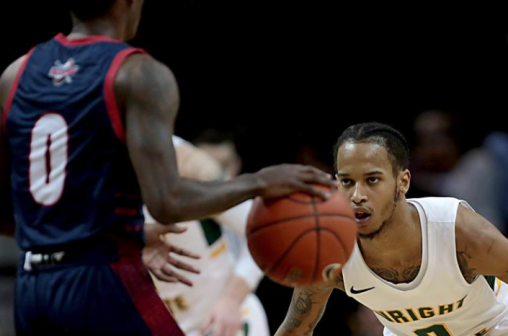 There would be no stops for food or bathroom breaks until they drove through Mississippi and Alabama.
Jaylon Hall remembers that directive he and his teammates – most of them fifth and sixth graders – got from their AAU coach and the chaperoning parents as they made their way from Houston to a basketball tournament in Florida.
"Those are two states in the South where you could run into a problem with 12 young African American boys running around just being kids," Hall said. "It was the same once we got to the hotel. Now I understand why the parents kept an eye on us. They knew what could happen."
Hall said he has several stories from childhood that he knows few, if any, of his Wright State teammates have.
He shared another tale – one he doesn't want to go into detail here – about a time he and his brother, both of them 10 or 11, were walking through a neighborhood and were confronted in an Ahmaud Arbery situation by an adult, though harsh words, not a gun, were the weapon then.
In these times of nationwide social unrest, many people – black and white – are demanding that "Black Lives Matter" isn't treated as just a slogan, but as a way of life and a human decency matter for everyone.
Hall's stories have a special resonance now.
He grew up in Houston, the same city where George Floyd did a generation earlier. Floyd was a noted athlete as well and Hall said his father believes he played against Floyd in high school.
As the whole world now knows, the unarmed and handcuffed 46-year-old Floyd was killed by a Minneapolis policeman – since fired and charged with murder – who knelt on his neck for nearly nine minutes as he lay on his stomach, gasping for breath, pleading for his life and, in his final moments of consciousness, calling his mother's name.
Once Hall reached high school – after his parents had divorced and life became especially difficult – he moved to Louisville to live with his cousin, Tony Williams, once a University of Louisville basketball star and longtime pro who was a high school coach.
As he became a hoops standout, Hall also became friends with the sister of Breonna Taylor, the 26-year-old EMT who was killed by police as she slept in her home March 13. Cops in street clothes executed a no-knock warrant in the middle of the night and burst through the front door looking for drugs, although there were none.
Taylor's boyfriend, thinking it was a home invasion, fired a registered weapon once and police responded with at least 20 rounds, eight hitting Taylor.
Once the unflinching video of Floyd's murder stoked national outrage, Taylor's death drew renewed interest and large protests began in Louisville. Within a few days a second person, 53-year-old David McAtee, was shot and killed at his popular BBQ shack by Kentucky National Guardsmen.
All this has weighed heavily on Hall and he brought it up to Wright State coach Scott Nagy when the two spoke recently.
"As we talked I could tell it was really bothering Coach like it was bothering me. He got real emotional," said Hall. "Me and Coach had a real touching moment there."
Read the entire original story at daytondailynews.com