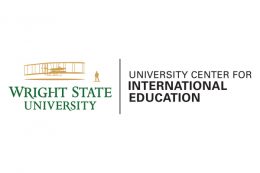 Two international students studying at Wright State University have received grants from the Institute of International Education to help with expenses incurred because of the COVID-19 pandemic.
An undergraduate student from Mongolia and an undergraduate nursing student from Nigeria were each awarded $2,500 from the Institute of International Education COVID-19 Emergency Student Fund. The grants were applied for by the Wright State University Center for International Education (UCIE).
Michelle Streeter-Ferrari, director of UCIE, said the center has worked with students to find ways to accommodate their unique needs, including providing small funds from donations to the center.
"We applied for several grants but were extremely pleased to see that two of our international students received $2,500 each from the IIE to continue their studies and fulfill their dreams," she said.
The New York City-based Institute of International Education focuses on international student exchange and aid, foreign affairs, and international peace and security. Its mission is to build more peaceful and equitable societies by advancing scholarship, building economies and promoting access to opportunity.
The grants were awarded to students who demonstrated a high financial need to cover their living expenses through the summer. The funds can be used for living expenses such as housing and food, medical expenses, insurance payments and academic expenses, except tuition payments.
During the spring semester, 547 international students were enrolled at Wright State. About 80% said they planned to remain in the United States this summer.
"They are far from family and in many cases not able to travel due to COVID-19. Wright State has become their home away from home," said Joy Wanderi, the associate director of UCIE. "We continue to offer programming, advising and reach out to our international students that includes a close collaboration with Wright State partners."
The Nigerian student who received the grant has been unable to continue working at her job because of the pandemic. Her mother, who is her sponsor, has struggled to financially support her daughter with the small pension she receives from the Nigerian government.
The student says the grant will be a huge financial relief for both her and her mother, who takes care of her and her entire family. She says it will also help relieve the mental stress that comes with financial instability so she can focus on becoming a great nurse in a time of need.
The parents of the Mongolian student are caring for her 1-year-old son while she studies in the United States.
"Every day I want to be with my son, but I do not want to risk his life by me traveling to Mongolia," she said. "I want to get my son here, but even that is still so risky, and it is so expensive to get plane tickets."
The Mongolian government still tells its citizens that they need to self-quarantine. An increasingly unfavorable exchange rate is making it more challenging for the student's parents to make their mortgage payments.
The student said receiving the grant money is a big relief for her and her parents.
"They do not need to worry about me so that they can take care of themselves and my son during this pandemic," she said.
The student plans to use some of the grant money to help herself prepare for exams by buying study materials and a study guide.
To donate to international students studying at Wright State during COVID-19, email askucie@wright.edu.