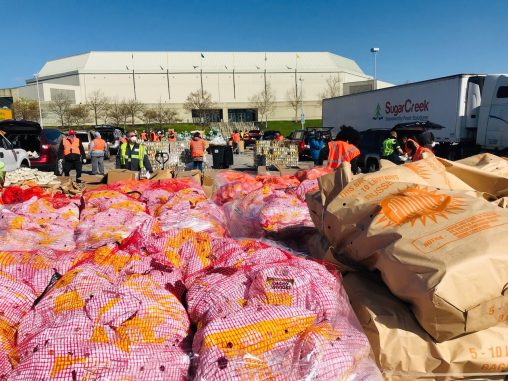 The Foodbank will return to the Wright State University Nutter Center for a mass food distribution on Thursday, July 23, from 11 a.m. to 1 p.m. This will be the third such distribution at the Wright State Nutter Center since April.
A wide variety of food, including fresh produce and frozen items will be available.
Vehicles should enter the Nutter Center grounds from Col. Glenn Hwy. and North Fairfield Road. Food will be distributed in Lot 8 behind the Nutter Center.
The Foodbank asks that families not start lining up before 9 a.m. There is a limit of two households per vehicle, and carpooling is encouraged for people who are in regular contact.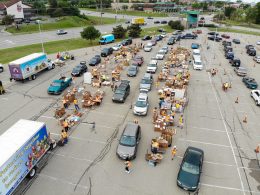 Vehicles should have an empty trunk or backseat so food can be loaded safely and easily. Foodbank staff will wear masks and gloves and will use a low-touch distribution method.
Any cars in line on Raider Road by 1 p.m. will be served. Anyone who is unable to get to the distribution by 1 p.m. is welcome to visit The Foodbank drive-thru at 56 Armor Place in Dayton on Monday, July 27, from 1 p.m. to 3 p.m.
For the last six years, Wright State has partnered with The Foodbank to host a mass distribution at the Nutter Center. During a food distribution event at the Nutter Center in April, the Foodbank served 1,381 households, the organization's largest food distribution in its history.
Wright State employees regularly volunteer at The Foodbank, including during We Serve U Day, a university-sponsored program that encourages staff and faculty to volunteer in the community.
More assistance available
For more information, contact The Foodbank's emergency line at 937-949-4096 or contact United Way 2-1-1 for support outside of distribution hours.
Wright State students in need of emergency assistance should contact the Raider Food Pantry at 937-260-0167.