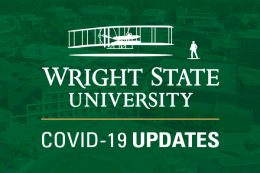 Long before Wright State University announced its plan to return to teaching for the 2020 fall semester with a mixture of in-person and remote courses, many administrators, faculty, staff and students had been working hard to make it happen.
Wright State Interim Provost Douglas Leaman established numerous committees and working groups to monitor the COVID-19 pandemic and engage in planning for the university's response and phased reopening of appropriate campus operations. He leads the Campus Reopen Steering Committee, which includes the chairs and co-chairs of seven subcommittees, as well as representatives from the offices of Communications and Marketing.
"We've been bringing together campus experts who are familiar with our operations and conditions to collaborate remotely and help us make sound decisions as we respond to the uncertainties associated with this pandemic," said Leaman. "It is critical that we get the university ready procedurally and functionally for our phased return to on-campus teaching and operations."
These groups are pursuing different areas and aspects of Ohio Gov. Mike DeWine and the Ohio Department of Health's Responsible RestartOhio operating guidelines for institutions of higher education. Each subcommittee determines needs in specific areas, assesses resources, and develops comprehensive plans and recommendations, which are then shared with the Campus Reopen Steering Committee for approval.
Leaman meets with the steering committee weekly to align planning across the wide range of functions. The steering committee approves new processes and procedures, makes decisions and addresses questions that the subcommittees bring forward, and when necessary, elevates questions and proposals to the Executive Committee for final determination.
"The health and safety of our students, employees and visitors remains our primary concern as we plan and make our decisions," said Leaman.
Committee members stay abreast of evolving guidelines and restrictions set by the Centers for Disease Control and Prevention, Ohio Department of Health and public health departments in Greene, Mercer and Montgomery counties. In addition, they engage regularly with other higher education institutions in Ohio and national educational organizations.
The subcommittees include faculty, staff and student representatives from across the university, including Environmental Health and Safety, Wright State Physicians, Student Health, Facilities, Faculty Senate, Student Government Association, Academic Affairs, every college, Lake Campus, Residence Life and Housing, Computing and Telecommunications Services, Center for Teaching and Learning, union representatives, Police, Student Success, Disability Services, University Center for International Education, Libraries, Human Resources and other units.
The Campus Reopen subcommittees include:
Academics Reopen
Administrative and Operations
Community Wellness and Health
Contact Tracing and Testing
Policies and Procedures
Research Working Group
Student Life
Academics Reopen
Lisa Kenyon, associate professor of biological sciences, chairs the Academic Reopen subcommittee. Co-chair is Linda Caron, dean of the College of Liberal Arts. This group's charge is to coordinate course delivery mode discussions, manage space and safety for in-person classes, provide teaching support for all delivery modes and develop scheduling plans to accommodate social distancing.
They are planning for a fall semester that will include a combination of remote, flexible delivery, and safe, socially distant, in-person classes. The aim is to ensure the best experience for Wright State's students, taking into account space, scheduling, pedagogical, and health concerns for all students and employees. Read more about the academic plans.
Administrative and Operations
Marjorie Markopoulos, director of environmental health and safety, chairs the Administrative and Operations subcommittee, along with co-chair Javan Conley, associate vice president for facility operations. This subcommittee reviews and approves campus reopen plans, prepares campus facilities and spaces for reopening, and controls access to campus. In addition, the group is developing a plan to respond to a positive COVID-19 case on campus.
Some of their plans include arranging all classrooms to provide physical distancing and placing decals and signage to clearly identify safe places to stand and sit all over campus. The Facilities team will clean and disinfect surfaces and objects to reduce the risk of exposure and will be installing transaction shields or barriers in campus areas where frequent person-to-person interaction occurs. Read more about facility safety and security.
The phased return of Athletics also falls under the Administrative and Operations subcommittee. Some athletics practices have resumed in a systematic and controlled nature, following strict public health protocols. Read additional details about Athletics.
Community Wellness and Health
Robert Rando, assistant vice provost for student affairs, chairs the Community Wellness and Health subcommittee, which is focusing on public health communications and developing and delivering wellness resources. In addition, the group will assess the Wright State community's health and prepare for student cases, in close association with the contact tracing and testing subcommittee.
Contact Tracing and Testing
Contact tracing and testing for COVID-19 are important components in keeping the Wright State community healthy and stopping the spread of the virus. Marietta Orlowski, chair and associate professor of populations and public health sciences, will utilize her expertise as chair of the Contract Tracing and Testing subcommittee.
This group is working with regional public health entities to ensure that procedures are in place to address situations related to the COVID-19 pandemic. They are also developing a testing plan, as well as a plan to respond to a positive case of COVID-19 on campus.
Policies and Procedures
The Policies and Procedures subcommittee, chaired by Sean Culley, deputy general counsel, will focus on modifying university policies to adapt to the COVID-19 pandemic. They will develop safety requirements for faculty, students and staff, including in-person work requirements. The group will also look at required documents and training so everyone knows what is expected once they are back on campus. They also will examine policies and procedures that apply to the University Center for International Education, international students and travel.
Research Working Group
The Research Working Group is chaired by Madhavi Kadakia, chair and professor of biochemistry and molecular biology and associate dean for research affairs in the Boonshoft School of Medicine. Kathy Engisch, interim dean of the College of Science and Mathematics, is the co-chair.
This group developed a plan to ramp up research and respond to COVID-related research issues. The committee is also working on a plan for undergraduate research. Through this subcommittee's efforts, some researchers voluntarily began working in their laboratories in a successful phased approach this summer. Read more about research planning.
Student Life
The Student Life subcommittee has been working diligently to prepare housing, dining, recreation and events plans. Dan Bertsos, director of residence life and housing, chairs the subcommittee, with co-chair Chris Taylor, interim vice provost for student affairs. Plans call for all residential housing communities to be open for fall semester (with reduced occupancy) for students who want to live in one of Wright State's residence halls or on-campus apartments. This includes Lake Campus.
Residence Life and Housing staff and members of the subcommittee have been planning all summer long and are taking extra precautions during the 2020-2021 academic year to ensure the health and safety of residents and will abide by public health and state mandates. Read more about Residence Life and Housing.
For more information, visit the Campus Reopen Committees webpage.