Excerpt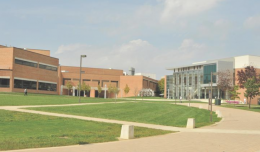 One of Dayton's largest universities has secured federal funding that will accelerate research in advanced manufacturing.
The award is part of a competitive, merit-based program that provides cost-shared funding for projects that research new technologies to address critical national needs.
The National Institute of Standards and Technology (NIST), an agency of the U.S. Department of Commerce, awarded $120,000 to Wright State University in Fairborn to research additively manufactured parts and their surface characteristics.
WSU will use the funding to help its graduate students and faculty better understand surface formation across alloy systems in laser powder bed fusion.
Laser powder bed fusion is an emerging additive manufacturing technique used in 3D printing and prototyping to fabricate complex metal components, which are commonly used in the aerospace, medical and automotive industries. The technique uses a high power-density laser to melt and fuse metallic powders into solid, three-dimensional parts.
Wright State and NIST will work together to provide research on how surface characteristics of additively manufactured super alloys are affected under high-stress conditions.
"Not only will this investment support faculty and students at Wright State University, but it will also help Ohio's small businesses and manufacturers compete with anyone," Ohio Sen. Sherrod Brown said Wednesday in a release.
The NIST has awarded funding to other Dayton-area projects in the past. In 2016, the institute doled out $200,000 to support the Cincinnati-Dayton Cyber Corridor RAMPS project, which included local collaborators like WSU, the University of Dayton, the Air Force Institute of Technology and the Dayton Development Coalition.
"Ohio is a known leader in manufacturing," Brown said. "We're building on that legacy by making new investments in advanced manufacturing research, which will help to create jobs."
View the original story at bizjournals.com