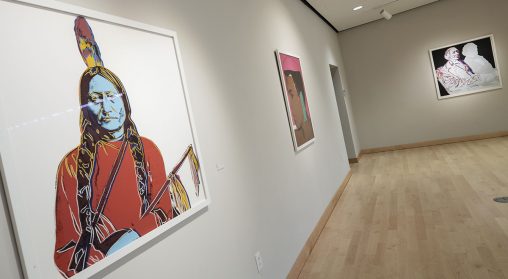 Six newly framed prints by Andy Warhol are now on display in the Robert and Elaine Stein Galleries in Wright State University's Creative Arts Center.
This is the first time the Stein Galleries have displayed the prints, which have been in storage. The galleries have more than 100 Polaroids and 50 gelatin silver prints that were donated to Wright State by the Andy Warhol Foundation for the Visual Arts as a part of the Andy Warhol Photographic Legacy Program.
The prints on display complement the Warhol Polaroids that the Stein Galleries have, demonstrating an alternative method frequently used by the artist, said John Dickinson, associate professor in sculpture who is overseeing the Stein Galleries.
"The pieces figure nicely into our collection, which is grounded in modernist works from 20th century artists," Dickson said.
Two of the works are from Warhol's "Hans Christian Andersen" series; one piece is a portrait of Muhammad Ali; another is a portrait of Sitting Bull from his "Cowboys and Indians" series; one is from Warhol's "Ladies and Gentlemen" series; and one piece, entitled "Purple Cows," features purple cows. All are screenprints except for "Purple Cows," which is rubber stamp on paper.
Due to the COVID-19 pandemic, the Stein Galleries' schedule of exhibitions planned for fall 2020 has been postponed. Until scheduled programming can resume, varied and dynamic works from the galleries permanent collection will be on display, including pieces by notable artists such as Larry Rivers, Joel Peter Witkin, Robert Motherwell and Joseph Kosuth.
"Though it was a bit disappointing not being able to proceed as planned, the department felt it important to still mount an exhibition for our students as well as the larger Dayton community," Dickinson said. "Direct engagement with works of art is an essential component to classes taught in the Department of Art and Art History, and during these difficult times, experiencing art firsthand can offer much-needed comfort and release."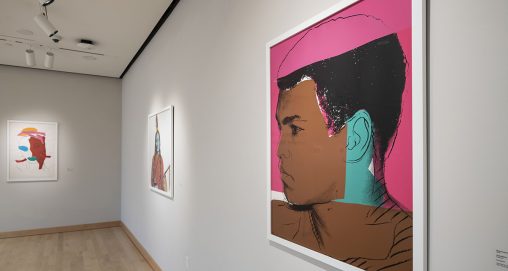 Stein Galleries visitors must wear face coverings and practice physical distancing, as stated in Wright State's campus healthy and safety protocols.
Although regular gallery hours have been canceled, interested members from the community can contact artgalleries@wright.edu to schedule an appointment.