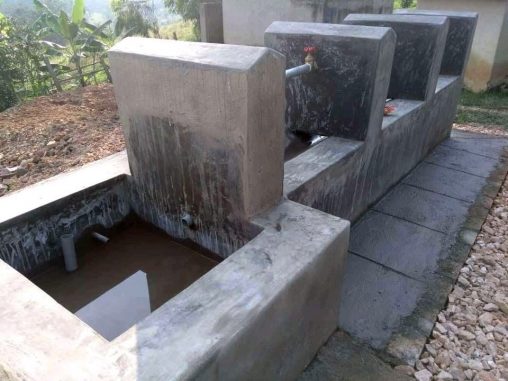 A hand wash station designed by Wright State University engineering students for a village school in Uganda is so popular that it has spread to nearby locations and is credited with helping slow the COVID-19 pandemic.
The students are part of Engineers Without Borders, a student-led group that focuses on need-based engineering service projects.
The group originally heard about the potential partnership in Uganda from its professional chapter in Cincinnati. St. Bakhita Secondary School in Uganda needed engineers for a sanitation project and was willing to collaborate with the students.
In March 2019, the Engineering Without Borders students — Sabrina D'Alesandro; Riley Croghan, vice president; and Jacquelyn Smith, former president — traveled to Uganda to assess the needs of the school and gather data. Members of Hope for Kabingo traveled with the students and helped them with trip logistics and forming relationships with the community.
The students discovered that the primary need at the school was for a hand wash station, as 300 schoolchildren were unable to wash their hands after using pit latrines.
The students returned to Wright State, designed the hand wash station and got it approved by the national Engineers Without Borders. The three students and Garrett Regan, domestic project lead, then returned to Uganda, where they oversaw construction of the hand wash station and worked with the community on a maintenance plan.
Months after returning home, the students learned that the hand wash station was reproduced in several locations in the area near the school.
"This was incredible to us because that meant several things. The design was helping the community, it was easily maintained and easily reproducible," said D'Alesandro, who is president of the group. "Many of the community members also told us it was especially helpful due to the pandemic, allowing them to slow the spread of COVID-19 and other harmful diseases and bacteria."
This year the students plan to remotely implement another hand wash station and possibly redesign a latrine.
D'Alesandro said the project has helped the students gain real-world experience in the field.
"We design all of the designs ourselves, collaborate with engineers all over the world, and most importantly actually help people during the pandemic," she said. "This is experience only a handful of engineering students can put down on a resume, really setting apart our Wright State engineering students from other job applicants."
D'Alesandro is a junior majoring in materials science and minoring in computer science, math and Arabic. Besides being president of the Engineers Without Borders group as well as the Dean's Student Advisory Board in the College of Engineering and Computer Science, she is an intern at Wright-Patterson Air Force Base.
"My main priority as a student has been building opportunities for others at Wright State so I have been super involved in campus research, the CECS student ambassador program and various other clubs on campus," she said.