The annual Wright Day to Give on Oct. 1 was the most successful giving day in Wright State University history with 1,081 donors contributing $205,624 for student scholarships and program funds.
"We could not be more thrilled with the results of this year's Wright Day to Give," said Amy Jones, director of annual giving. "Our students have been greatly impacted by the COVID-19 pandemic, so we were hoping to have more donors and raise more money this year. But the generosity of our Wright State family far exceeded our wildest dreams. We are grateful to each and every donor who stepped up to help our students."
"One of the greatest benefits of the Wright Day to Give is that it brings the entire Wright State family together," said Bill Bigham, interim vice president for advancement. "Wright State alumni from across the country contribute, along with faculty, staff, students, parents and other friends of the university."
The first Wright Day to Give was held on October 1, 2017 — the university's Founders Day — to celebrate Wright State's 50th anniversary. Since then, the number of donors has increased steadily each year. In 2019, 622 donors contributed $64,430 on the Wright Day to Give.
"It's been wonderful to see the Wright Day to Give grow every year, but the response this year was overwhelming," said Jones. "We reached our goal of 600 donors by late afternoon, and the donations just kept rolling in after that."
This year's Wright Day to Give offered several new challenges and matches to encourage donors to support a variety of colleges, emergency funds, scholarships and initiatives. Gifts from Wright State alumni, regardless of their designation, were counted toward the college they graduated from as part of the College Alumni College. The Raj Soin College of Business had the highest level of participation from alumni, earning an additional $1,500 in bonus funds.
Incentives were also offered for college emergency funds. The College of Liberal Arts Emergency Fund had the most donor participation and received an additional $1,500 in bonus funds to support students needing assistance with food, housing, lost wages, mental health and various financial constraints.
"The Wright Day to Give helped the College of Liberal Arts (COLA) raise $6,100 for the COLA Emergency Fund. With this support, the college will be able to help 12 to 15 students who need financial support," said Nick Warrington, COLA's director of events and community engagement. "Most recently, students have found themselves unemployed due to COVID-19, which has impacted their ability to pay their bills, purchase food and update their technology to take classes online this semester."
Since its inception in 2017, the COLA Emergency Fund, which is fully funded by private support from donors, has helped 70 students.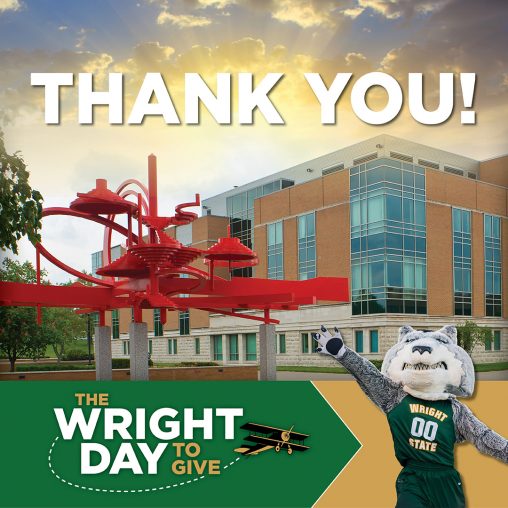 "The COLA Emergency Fund has been affectionately known as the 'Flat Tire Fund,' which is aimed at helping students with sudden, unexpected emergencies that could prevent them from continuing their education here at Wright State," said Linda Caron, dean of the College of Liberal Arts. "Many of the students we serve live close to the financial edge, and one flat tire can be a breaking point in their academic endeavors."
Over the years, Caron and Warrington have heard countless heartbreaking stories from students who have been helped by the COLA Emergency Fund. One student was living in his car because he didn't have the money for a security deposit on an apartment. He had the funds to pay for his monthly rent, but not the additional amount required to move in.
Another student could not afford daycare after her mother — who was also her babysitter — fell ill. One student needed assistance with emergency electric bill payments to prevent the electricity from being turned off. The COLA Emergency Fund also helped a student with a newborn baby after the baby's father disappeared without paying any child support.
"We have also helped cover textbooks and final credit hours needed to graduate after financial aid was exhausted, and we provided money for bus passes and car repairs," said Caron. "These awards not only rescue our students from the financial cliff, they also keep them in school and show them that Wright State and the College of Liberal Arts truly care for them."
Bigham said that 25% of the gifts on the Wright Day to Give were directed to student emergency funds within the colleges, the Deedrick Student Support Fund or the Raider Food Pantry.
"We continue to hear stories from our students about pressing emergency needs that require immediate assistance. This can happen in any semester, but it seems to be on a greater scale now due to the COVID-19 pandemic," said Bigham. "Gifts to the student emergency funds will be put to immediate use to help students that have reached out to us about their struggles. Thanks to the generosity of our donors, we are helping students overcome these obstacles so they can continue pursuing their academic goals."
In honor of Wright State's 53rd anniversary, the Wright State University Alumni Association Board of Directors matched all gifts to the Wright State Alumni Association Legacy Scholarship, up to $5,300. The Wright State University Foundation donated $16,000 when the goal of 600 donors had been reached.
Additional challenges and matches were provided by Wright–Patt Credit Union; Marque Engineering; Jeff Lightner '96 and family; Bill Pohlman '76 and family; Doug Cook '81,'85; Randy Phillips '82 and Cindy Phillips; College of Science and Mathematics leadership; Jeff Bauer '88; Amigos Latinos Alumni Society; Veterans and Military Alumni Society; Cleveland Alumni Network; Lake Campus Alumni Network; LGBTQ and Ally Alumni Society; Fraternity and Sorority Alumni Society; African American Alumni Society; Social Work Alumni Society; and Sigma Phi Epsilon Alumni Volunteer Corporation.
"These matches and challenges were a huge part of our success this year. They made a significant impact for our students and encouraged others to give," said Jones. "We look forward to building on the momentum of this year's Wright Day to Give and breaking even more records in 2021."