Excerpt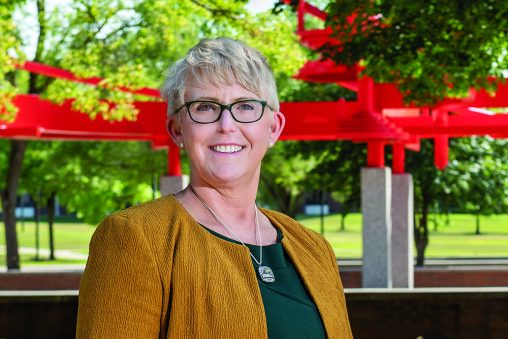 Like its peer institutions, Wright State University acted quickly this spring to mitigate disruption to its operations as the Covid-19 pandemic put higher education on standby.
Now that the 2020 fall semester is well underway, the Fairborn institution is exploring new ways to meet the needs of its students and community partners alike.
The DBJ spoke with Susan Edwards, president of Wright State, to learn more about what this semester and the 2021 academic year might look like:
How has the 2020 fall semester been so far?
It has gone pretty well. We really benefited from our students and employees being willing to follow our protocols — wearing masks, socially distancing, working from home, staying at home if they're sick. That makes it easier.
Some of our success can be attributed to the design of our semester plan. We chose to have a very conservative semester plan, with 70% of our classes being remote and 30% either having a component of in-person and online, or in-person wholly. Making that decision was really difficult, because no matter what we did, we were not going to please everybody. But we haven't had any interruption, and it's because our human footprint on the campus is drastically reduced. I joke with the governor that I sometimes have more geese on campus than students.
Our residence halls are just under half full. We were able to provide the opportunity for our students who are living on campus to have single room. That again minimizes spread, which minimizes disruption to operations.
What were some of the early challenges Wright State faced?
Our faculty members had to work all summer to develop their courses for a remote plan, and that's not an easy task. We had a great cooperation between the faculty members and the staff within our Center of Teaching and Learning, and I think that is a lasting benefit for the university.
Another big challenge was an effort to try and find a balance between safe on-campus learning, and the living experience for our students. The safety and well-being of our students, faculty and staff was always our No. 1 priority, but we also recognize that our students really crave that college experience, both academically and socially.
Is Wright State developing any long-term strategies to attract nontraditional students or online learners?
Our class portfolio — and the flexibility of it — is likely being changed dramatically moving forward. Covid-19 prompted us to offer more remote and online classes than ever before. Those classes are critical to nontraditional students … and those students have been able to continue their work and utilize the remote possibilities.
In higher education nationally, there has always been a resistance to remote or online education, certainly in the traditional fields. I think this has taught folks that you can use technology quite effectively to engage with your students in the classroom. It can be done, and we can perhaps be a bit more flexible and design programming that is accessible.
The short answer is, I think we're going to be more flexible moving forward. We will be talking to our students and talking to our faculty, listening to see what worked and what didn't work, and really being mindful of how we move forward with it.
Have you taken measures to ensure experiential learning can continue?
Absolutely.
Students have been back in the labs throughout the summer with heightened safety protocols. They're doing their research here on campus, and they're doing research on the base where operations are up and running. So for the most part, students are still having those experiential learning opportunities.
In some cases, those opportunities pivoted to a virtual experience. Our economic partners off campus have faced their own in-person safety constraints, so they too have learned how to shift their operations and provide opportunities for our students in a remote format. Internship sites in many areas will remain remote throughout the end of this year, but those partners have worked with our students to continue to engage as they are operating remotely.
One thing that has been dramatically altered for the time being is the study abroad opportunities, but we've been working with some of our international partners to provide some possibilities in the virtual space. Students in our study abroad program right now can study culinary arts in Paris, the fall of the Roman Empire in Rome, and Chinese culture in Shanghai — and they all do it on the same day from the comfort of their own home.
Has Wright State explored any new opportunities for collaboration or partnership?
We have really made an effort to solidify our partnerships with the base, and I think that's starting to pay off. We're leading a team of six academic institutions for the Air Force contract around digital learning; microelectronics, education and training. We also just landed another project with AFRL to better understand the stresses that pilots endure during their missions.
We're also pursuing opportunities in the healthcare industry. We are partnering with Greene County to provide them with contract tracers, and they have been a great partner as we have gone through the planning process ourselves.
We're always exploring new opportunities to develop critical credentialing programs that will help our partners. I'm reaching out with local businesses each week saying, 'What is it that you need, and how can we help you?'
We're the state institution that serves this region, and over 84% of our graduates remain in this region. They are filling the jobs that these companies and the base and our healthcare industry partners have. I think that's critical moving forward.
Any plans for new programming, expansions or other investments heading into 2021?
We've been talking about the new college that's coming on campus. It's probably the most significant academic reorganization that we've had — but there's also talk of others.
The health and education college has been talked about since before I got here. Three years ago it started, and it is now at the point where it's going to be up and running before next year. We hope it's going to lead to new programs that are going to support our healthcare industry and our educational industry in new ways.
Our Boonshoft School of Medicine is getting a new dean, and I think that also brings in new ideas and new opportunities for programming.