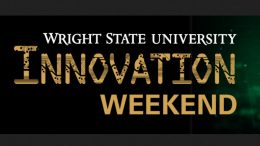 Wright State University students will devise opportunities to address the causes of climate change during Innovation Weekend, Nov. 6–8.
Innovation Weekend will focus on "Mitigating Climate Catastrophes: Earth, Wind, Fire and Water." Teams of students will consider problems, formulate solutions and pitch their ideas to address climate change to regional experts.
Innovation Weekend is open to all undergraduate and graduate students and it will appeal especially to students studying in areas that involve making sense of information, solving problems or helping others. The event will focus on problems related to the environment, manufacturing, technical innovation, data analytics, computer science, policy changes or waste management and logistics.
Hosted by the College of Science and Mathematics, Innovation Weekend will be held virtually on Microsoft Teams. More details on the event, including registration information, are available at wright.edu/innovationweekend.
"Innovation Weekend extends what we are already doing in the classroom, with students working together in teams to solve problems, but uses the big problems of our day to inspire students to dig deep and use all their creative powers," said Kathy Engisch, interim dean of the College of Science and Mathematics. "It has been found that creativity comes from broadening our perspectives beyond what we are most familiar with. By having multidisciplinary teams comprised of students from business, engineering, sciences, humanities and education, new ideas can be accessed and explored that might otherwise have been missed. And we know from past Innovation Weekends, it is also very fun for everyone involved!"
Participants will explore opportunities to address various causes of climate change, including manufacturing processes, public policy changes or personal consumption habits. They will also consider how to address mental health aspects of repeated catastrophes and how to manage risks to life, health and property caused by climate change.
Following a series of "innovation sessions," the teams will present their solutions, and event moderators will select the winning ideas.
During Innovation Weekend, students with interests in research, innovation and entrepreneurship work in teams to address technologically demanding, market-driven problems. The weekend seeks to develop students' real-world problem-solving skills, connect students to industry and government partners, and enhance access to research internships and employment opportunities.
During past Innovation Weekends, students have explored ideas to address battlefield injuries and mass-casualty situations and address plastic waste in the world's oceans.
Innovation Weekend is sponsored by WestRock through the WestRock Company Endowed Fund in Sustainable Sciences.