Excerpt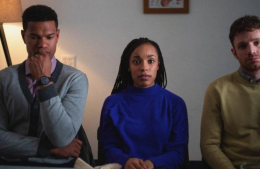 Wright State University and Juilliard School graduate Jasmine Batchelor's phenomenal performance as Jess Harris in Jeremy Hersh's powerful, thought-provoking indie drama "The Surrogate" has garnered her an IFP (Independent Filmmaker Project) Gotham Award nomination for Breakthrough Actor. Winners will be announced Monday, Jan. 11.
Appearing in every single scene, the captivating, expressive Batchelor mesmerizes in her role of a Brooklyn web designer asked to be the surrogate for her best friend and his husband. Situations turn when a prenatal test causes a moral dilemma threatening their relationship forever. Released last summer from Monument Releasing, "The Surrogate" is now available on video on demand.
While at WSU, Batchelor delivered a dynamic portrayal of vibrant maid Sabina in the 2007 production of "The Skin of Our Teeth." She also dazzled as Beneatha Younger in WSU's 2008 production of "A Raisin in the Sun." In addition to appearing as Yale University student Terri Scholes in the Human Race Theatre Company's 2010 local premiere of "The Vertical Hour," her theatrical credits include performances with Shakespeare Theatre of New Jersey, Baltimore Center Stage, Manhattan Theatre Club, and The Public Theater. Her television credits include "NCIS: New Orleans," "The Good Fight," "The Affair" and "Law & Order: SVU."
A Philadelphia native raised in Atlanta, Batchelor, 32, recently reflected on her acclaimed performance as well as the Gotham Awards, which are among the first significant Oscar precursors leading into the flurry of awards season.
Q: 'The Surrogate' and your remarkable performance are among my film favorites of 2020. What was your initial reaction to reading the script?
A: When I read the script I'd never felt so seen by a script before, meaning I'd never seen such a very well-rounded, flawed, young black woman that reminded me of the worst and best parts of myself. It was really exciting. It's difficult to find that kind of material that speaks to you. Every page I turned I felt I knew her. I didn't know what it was like to have a tech job, but I knew what it was like to overcommit, to be kinder than necessary, to sacrifice in order to survive, and to be the "only" in certain circles, which is something a lot of (Blacks) have to get by if we go to predominately white institutions or work in the corporate world.
View the complete post at dayton.com