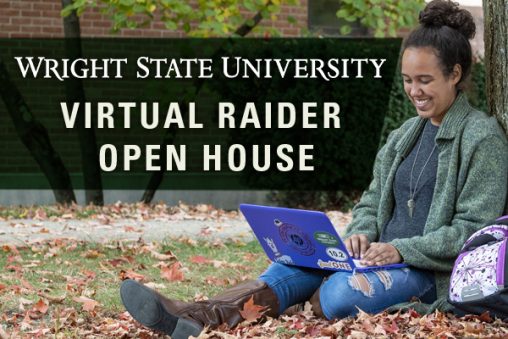 Future students and their families can learn more about Wright State University during the virtual Raider Open House on Monday, Jan. 25, from 6 to 7:30 p.m.
The live online event gives future undergraduate students — including transfer students — and their families a glimpse of all that Wright State has to offer.
Register for the Virtual Raider Open House at wright.edu/openhouse.
Future Raiders will learn about Wright State's 140 academic programs, financial aid, housing, University Honors program and more. Wright State admissions staff will provide details on how participants can start their application to Wright State and pay for college.
Participants can also learn about Wright State's tuition guarantee program that will enable students and families to more confidently plan their finances and provide an incentive for graduating on time. It locks in the same annual cost of tuition, housing and dining over a four-year college career for newly admitted, degree-seeking undergraduate students who are Ohio residents.
A virtual campus tour will also be offered at the end of the event, allowing participants to explore Wright State's campus from a student's perspective.
For more information, contact the Office of Admissions at 937-775-5700.
Tentative agenda:
6–6:05 p.m.: Welcome
6:05–6:30 p.m.: Your Raider Experience: Learn how to apply for admissions, scholarships and financial aid
6:30–7:10 p.m.: Meet Our Faculty: Hear from faculty members in six academic colleges
7:10–7:25 p.m.: Meet Raiders: Hear directly from current Wright State students
7:25–7:30 p.m.: Question and Answer Session
7:30 p.m.: Optional Virtual Campus Tour