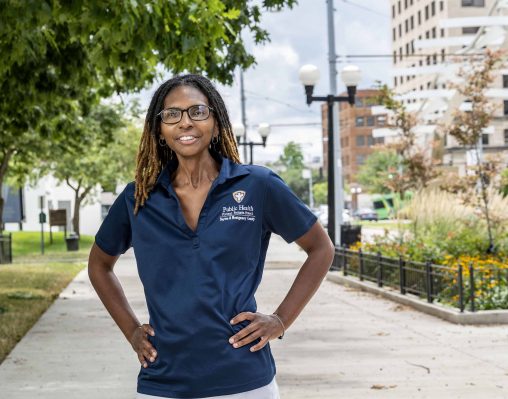 Public health has been thrust into the spotlight this past year with the COVID-19 pandemic. Our world has seen the importance of public health and how it impacts our lives.
April 5-11, 2021, is National Public Health Week, which the American Public Health Association has celebrated for nearly the past 20 years. The association uses this week to educate the public, policymakers and practitioners on the importance of public health, recognize and thank those in public health for their contributions, and highlight issues of importance in improving the public's health.
The role of public health includes promoting and protecting the health of our communities, tracking disease outbreaks, advocating for laws to protect health, promoting wellness and providing science-based solutions to health-related problems. Some fields in public health include public health medical providers, epidemiologists, first responders, social workers and restaurant inspectors.
The theme for National Public Health Week 2021 is "Building Bridges to Better Health," which was chosen in light of COVID-19. Though right now people are physically distanced, it is more important than ever because of the pandemic and its effects on the health and welfare of our communities to come together to learn more about and share the importance of public health.
Each day of the celebration will have its own focus, seen as pieces of the bridge moving us toward better health for all. Daily themes include "Rebuilding," "Advancing Racial Equity," "Strengthening Community," "Galvanizing Climate Justice," "Constructing COVID-19 Resilience," "Uplifting Mental Health and Wellness" and "Elevating the Essential and Health Workforce."
The Wright State University Boonshoft School of Medicine (BSOM) is also using this week to promote the important role public health plays in society, its Master of Public Health (M.P.H.) Program, and the impact it has made on the health and welfare of the Dayton community and beyond.
The M.P.H. program is housed within the Department of Population and Public Health Sciences at BSOM. The department also provides educational, leadership and graduate certificate programs including Health Care Management, Public Health Leadership, Aerospace Medicine, Epidemiology, Emergency Public Health and Global Health. Public health education is also offered to undergraduate students through programs such as Global Health or Climate Change and Health.
The M.P.H. program at BSOM is recognized as the first in southwest Ohio and is the only accredited public health program in the Dayton area. Over 350 people have earned their M.P.H. degree from the program and are contributing to public health in and around Dayton and in communities all over the country, driving initiatives and making decisions impacting the health of many. The program prides itself in providing students in-demand programs such as epidemiology and public health leadership, promoting opportunities for student engagement with local public health leaders, many of whom are program alumni, and offering convenient class options, including evening, online, in-person and hybrid.
"The M.P.H. program at BSOM gave me foundational public health knowledge as well as real-world experience and skills to prepare me for the public health workforce," said Kristin Snyder, a 2018 program graduate and public health consultant with the Ohio Department of Health. "The smaller class sizes, ability to work one-on-one with professors and advisers, the opportunity to gain real-world experience and the flexibility to attend classes in the evening while continuing to work provided me what I needed to begin a career in public health."
Fabrice Juin, who graduated from the M.P.H. program in 2020 and also earned graduate certificates in Global Health and Public Health Leadership, is currently project manager for minority health with Public Health – Dayton and Montgomery County.
"The M.P.H. program facilitated community engagement opportunities that allowed me to connect with local stakeholders in the county's health system, connections that were pivotal in helping me secure my position. … Every single instructor taught me something that I use in my professional capacity today," said Juin.
As a representative to the Ohio Commission on Minority Health, Juin addresses health disparities and implements equity in health initiatives, including most recently the COVID-19 response.
"The M.P.H. program gave me the chance to connect with individuals from different walks of life, varying expertise and unique perspectives, which provided me the skills to be a more inclusive health advocate," Juin said.
The M.P.H. program is not only focused on educating students to become public health leaders, but also on supporting the health of the local community.
Growing a skilled public health workforce is very important to sustaining healthy communities. In that effort, this past summer the M.P.H. program began managing a student contact tracing program that assisted many county public health departments in southwest Ohio with COVID-19 contact tracing.
The contact tracing involved hiring and training Wright State students to be contact tracers. As contact tracers, students connected with those who had received a positive COVID-19 diagnosis, checking in on how they were doing, determining who they had been in contact with, then reaching out to those people to see how they are and encourage them to get tested. The program, which concluded on March 31, 2021, has had a positive impact on the spread of COVID-19 and on the health and wellbeing of many people in southwest Ohio.
Another program that fosters public health workforce development is the Boonshoft Public Health Workforce Scholarship. Eligible applicants include anyone employed full time for at least a year within an Ohio public health department. This scholarship program covers 50 percent of in-state tuition and program fees. Up to three awards are presented each academic year.
"There are not many fields of study that have such a broad scope of influence and impact on our society like public health," said Juin. "I am confident that there are very few other M.P.H. programs that treat you like the unique individual you are and the future leader you will be."