Wright State University's Model UN Team received the top award of Outstanding Delegation at the 2021 National Model United Nations Conference.
The conference was held online and had a different format than in the past due to COVID-19 restrictions. The Wright State students participated in the online conference from March 28–31 from the Student Success Center on the Dayton Campus.
"The team of 15 students all put in great effort that is required to win the overall delegation award," said Vaughn Shannon, professor of political science and co-advisor to the delegation along with Liam Anderson, professor of political science.
It was the 41st consecutive year of Wright State participation in the conference that the university received a delegation award.
This year, the team represented the United Kingdom at the conference and received an online mission briefing by a member of the UK Mission to the United Nations.
The Model UN is a conference similar to that of the United Nations in which students participate as delegates to various UN committees. The participants research and formulate political positions based on the actual policies of the countries they represent.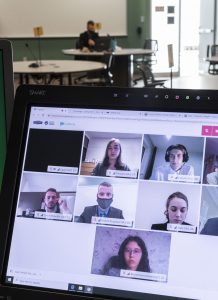 At Wright State, preparation for the conference involves more than just writing papers and learning a country's national policy. Delegates are taught how to implement a country's policy, how to dress, how to act in committee and what to expect from other countries they will work with in committee.
Four Wright State Model UN students won Outstanding Position Paper Awards in their respective committees:
Zach Janow: Security Council
Cali Gall: World Health Organization
Merve Hanzade Aslan and Maribel Santoyo-Ariza: General Assembly, 3rd Committee
Three students won Outstanding Delegates in Committee Awards:
Autumn Kern: Peace Building Commission
Hannah Weisgerber: UN Economic Council of Europe
Brad Kerry: World Food Program
This year's head delegates were Crystal Burns and Samantha Baxter.
For more information about Model UN, contact Shannon at vaughn.shannon@wright.edu.