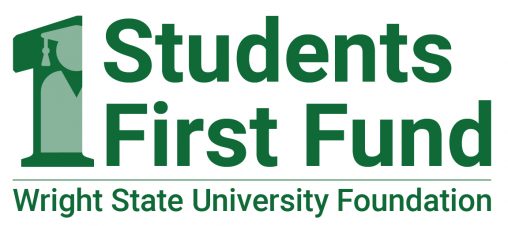 New equipment to expand digital storytelling capabilities for the Wright State Guardian, a program to improve student retention at the Lake Campus, and a state-of-the-art camera for motion pictures students are among the projects that have been approved for the latest round of Students First Fund grants.
Launched in January 2019, the Students First Fund was created by the Wright State University Foundation Board of Trustees to be proactive in seeking and funding innovative ideas that enhance the Wright State student experience.
"Every year, we are impressed with the quality of the applications that we receive. This year was no exception," said Dave Deptula, chair of the Students First Fund grants committee. "With so many worthy projects, it's never easy to decide which ones to fund. The seven projects that were selected for funding will have far-reaching impacts on both the Dayton and Lake Campuses."
Deptula said that 22 grant applications were submitted, competing for $50,000 in available funding.
"We would like to thank all of the faculty, staff and students who took the time and initiative to submit a proposal," said Deptula. "The applications clearly demonstrate the Wright State community's commitment to student success, campus engagement and professional development."
In selecting the projects, Deptula said that the Students First Fund grants committee wants to impact as many students as possible. The committee encourages and expects all grant recipients to leverage equipment, supplies and resources across campus whenever possible.
The following seven projects were approved for Students First Fund grants, with awards ranging from $3,650 to $10,000:
Engagement = Success: A Pilot Project for the First-Year Student Experience: To improve student retention at the Lake Campus, seminars will be offered for first-year students to help them successfully transition to college and make valuable connections as they navigate through school. The goal of the seminars is to help new students develop a sense of belonging, which could boost retention.
Student Patrol Program: Under the direction of the Department of Public Safety, the Student Patrol Program will help ensure a safe and secure learning environment on campus and foster the professional development of students who are interested in careers in public safety. Student patrol workers will conduct foot patrols on campus, help lock and unlock doors to campus buildings, serve as safety escorts, and respond to motorist assistance calls.
Collegiate Esports Club Initiative: Competitive video gaming, or esports, has grown exponentially over the past decade on college campuses. Many universities, including Wright State, have competitive esports clubs. Like traditional sports, esports teaches players how to think critically, lead a team, communicate effectively, and handle high-stress situations. Wright State's Collegiate Esports Club will utilize its Students First Fund grant to host larger and more frequent events and tournaments.
Women Students Equity, Leadership and Mentorship Consortium: Under the guidance of the Wright State Women's Center, three cohort-mentorship groups will be created for women of color, women in STEMM, and undergraduate women who are interested in furthering their education in graduate school. Each group will meet monthly and gather at the end of the academic year for a day-long symposium on leadership and professional development.
Motion Pictures Thesis Camera: The Department of Theatre, Dance and Motion Pictures will obtain a state-of-the-art camera for motion pictures students to use in their thesis films. Having an industry-standard motion picture camera is crucial to the recruitment and retention of students pursuing education and careers in motion pictures as it prepares them for the type of equipment they will encounter professionally.
G-TV Studio and Equipment: As part of its mission to expand to a more comprehensive media group, the Wright State Guardian will use its Students First funding to purchase the necessary equipment for producing professional video content. The new and updated equipment will allow the Guardian to provide more in-depth and higher-quality news in different formats. It will also give students the opportunity to gain hands-on experience with the same equipment they would be using in a professional newsroom after graduation. 
Global Virtual Learning: Wright State Collaborative Online International Learning: Under the direction of the University Center for International Education (UCIE), a new Collaborative Online International Learning (COIL) program at Wright State will enhance student learning and intercultural engagement. COIL connects students and professors in different countries for collaborative projects and discussions as part of their coursework. These collaborations provide meaningful and significant opportunities for global experiences while enhancing intercultural student interaction.
"We are proud to champion this innovative program to help Wright State students succeed," said Scott Rash, president and CEO of the Wright State University Foundation. "The Students First Fund grants play a vital role in supporting the university's commitment to recruitment, retention and relationships."