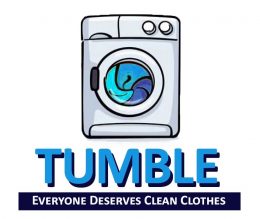 An on-demand laundry and dry-cleaning service was the winner of Wright Venture, the annual student entrepreneur competition hosted by the Raj Soin College of Business.
The service, called Tumble, is operated by Jeffrey Caldwell II, who is pursuing his Master of Business Administration, with a concentration in new venture creation, at Wright State, and Charles Wheeler.
"It was truly an honor to be in this year's Wright Venture competition, and it's a true blessing to win," Caldwell said. "We were up against some amazing businesses and ideas. Wright State has a whole lot of innovative minds on its campus."
Tumble offers two pickup and delivery services: dry cleaning and a wash, dry and fold laundry service. "Leave the rest to us and put away your freshly cleaned clothes within three days of your initial order," Caldwell said.
Users can place an order by calling or texting 937-540-0599 or by visiting tumblego.com. Caldwell and Wheeler are also developing a mobile app for Android and Apple devices.
They came up with the concept as students at Miami University, when one night as they needed to do laundry, Wheeler said, "What if there was an UberEats of laundry?" Caldwell thought the idea was brilliant, replying, "What if it was us?"
"And from there, Tumble was born," he said.
During Wright Venture, students with promising ideas for a new business compete for $5,000 in startup funds. The students present their ideas to a panel of experienced entrepreneurs called Wolves. The entrepreneurial competition is modeled after the reality TV series "Shark Tank."
Wright Venture encourages students to consider taking on the role of an entrepreneur by providing instruction for starting a business and helping students bring their idea to life. It creates an experience similar to an actual business startup, including networking, mentorship, creative idea development, product design, service creation, financial management, business planning and marketing skills, offered free by Wright State faculty, staff, and local and regional sponsors.
Caldwell was encouraged to participate in Wright Venture by Charles Gulas, professor of marketing at Wright State. "He mentioned that it would be excellent exposure for our business on Wright State's campus and provide us an opportunity for additional funding for our start-up," Caldwell said.
Five student teams participated in the competition, which took place on Webex on April 13. Students in the Raj Soin College of Business, College of Computer Science and Engineering and College of Education and Human Services participated this year.
The other business ideas presented were: Camp Central, an app that helps high school athletes find college camps; InvoicePlus, which provides contractors and small business owners with free estimate generation and invoicing; Campus Cruiser, a service that helps students find others to travel with; and Daarik, a tool that helps individuals understand their finances and restructure debt.
The judges who volunteered for the competition were Barry James, President, CEO and portfolio manager of James Investment Research, and three prominent Wright State business graduates: Jill Barber, president of CYMI Holdings; Sonia Barros, partner at Sidley Austin; and Andrew Kaiser, CFO of Cincinnati Bell.
Past Wright Venture winners include a water purification kit, a gym bag designed to organize clothing and belongings, and Galatune, a strategy card game.
Funding for the Wright Venture program is provided by the James Family Entrepreneurship Program, the City of Fairborn and Scene75.
More information is available at wright.edu/wrightventure.