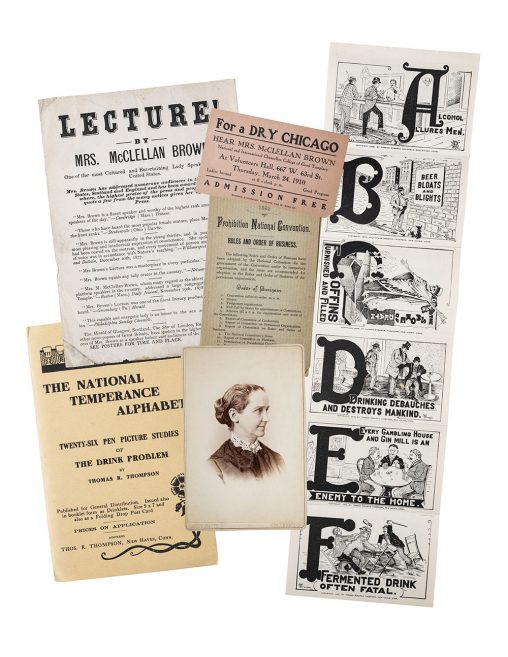 By Jane Wildermuth, Head of University Libraries Special Collections and Archives
Just over 100 years ago, the 18th Amendment became a part of our Constitution, prohibiting the manufacture and sale of alcohol. Many years of temperance advocacy preceded its passage. Temperance advocates saw alcoholic beverages as a root cause of societal problems—negatively affecting family life and mental, physical, and moral health.
One leader in this movement was Martha McClellan Brown. She was born in Maryland in 1838, but her family later moved to Cambridge, Ohio. She married William Kennedy Brown, a Methodist Episcopal minister, at age 20. The couple shared an interest in advocating for women's rights, suffrage, and social reform. They became greatly involved in the temperance movement in Ohio and nationally.
Brown served as the Grand Chief Templar of Ohio and was a popular speaker throughout the country. She drafted the Plan of Work and the call for a temperance convention that took place in Cleveland in November 1874. At that convention, the Women's Christian Temperance Union was founded.
As a speaker at the convention, Brown said, "The liquor traffic is the greatest curse of our race. It is undermining our nation by violating the spirit and letter of its constitution…by antagonizing all the noble principles upon which it is founded, by paralyzing all our institutions, civil, intellectual, moral, and religious, by perverting the cardinal issues of human destiny, life, liberty, and love, which embodies 'the pursuit of happiness.'"
Brown went on to take leadership roles, including vice president, in the Prohibition Party. She later worked in academia, serving as a professor and vice-president of the Wesleyan Female College in Cincinnati.
Brown died in 1916 at 78, only a few years before prohibition became the law of the land. The 18th Amendment was repealed in 1933 with the passage of the 21st Amendment. It is the only constitutional amendment that has ever been repealed.
Learn more about the Martha McClellan Brown collection located in the University Libraries Special Collections and Archives—visit libraries.wright.edu/special.
This article was originally published in the spring 2021 issue of the Wright State Magazine. Find more stories at wright.edu/alumnimag.