Graduating students and their families celebrated the culmination of their education at Wright State University's spring commencement ceremonies on April 30 and May 1. The university held four separate ceremonies at the Wright State Nutter Center to accommodate COVID-19 safety protocols.
View the Newsroom's spring graduation photo gallery.
The ceremonies included video messages from Gov. Mike DeWine and Mary Boosalis, president and CEO of Premier Health, each of whom praised graduates for their resilience and fortitude in achieving their dreams during extraordinary times.
Wright State University President Sue Edwards addressed the class, calling attention to students' resolve as the university and the broader community emerged from a fully COVID-impacted academic year. It was the first in-person commencement at Wright State in over 16 months due to the COVID-19 pandemic.
"The world has changed since you started your educational journey at Wright State University. It has been a time of great challenge and opportunity," said Edwards. "Because you are here today I know that you have met those challenges. You have seized those opportunities."
She drew attention to the unique experiences acquired under the circumstances, invaluable skills developed to cope and thrive in the pandemic, and the indomitable traits the class of 2021 leveraged to cross the finish line.
"Drive, initiative, adaptability, persistence, resilience," said Edwards. "You have used these and others to overcome the obstacles in front of you and succeed in ways you might not have dreamed you ever would. You have demonstrated the tenacity and sheer grit that Wright State Raiders are made of. You have been nothing short of amazing."
Edwards called attention to the many paths that graduating students walked to earn their degrees, noting that some students came from directly from high school, others transferred from other universities, and others came to Wright State after earning degrees at community college partners.
"Some of you out there have worked to put yourself through school. Some of you are parents, perhaps single parents. Some of you cared for loved ones along the way," said Edwards. "In part, you got here because of your drive but also your willingness to seek out an opportunity to grow. All of you are here today. You are the living breathing proof that education is for everyone."
Edwards left graduates with a simple request and a bit of advice that she said had served as an important reminder for her in moments like these.
"You've just written one of the most important chapters in your life because of what it unlocks for your future. Certainly today, given what we have all endured and overcome we may look back for a moment," said Edwards. "We may say to ourselves, 'wow, we managed to get through that?' 'Look how far we have come.' 'Look at what we just proved we can do.' Spend a few moments today and do that. But I'd caution you with a simple bit of advice that's served me well through the years. It's one that I've come to appreciate even more these days. Don't look back. You're not going that way."
"I beg of you today to set your sights on the future," said Edwards. "Spend most of your time driving toward your next adventure. Visualize where you are going. Realize your dreams. And show the world what Wright State Raiders are truly made of. I am so proud of your strength and perseverance. Congratulations, class of 2021! You are truly awesome! Go forth and be brilliant."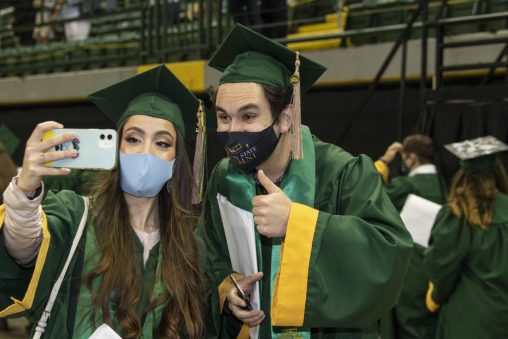 The spring class of 2021 includes graduates with 1,434 bachelor's degrees, 455 master's degrees, 28 doctoral degrees and 28 associate degrees.
The class features 90 international students from 19 different countries. India boasts the largest number of foreign graduates, with 50.
The two youngest graduating students are 18, earning an associate degree in technical studies and bachelor's degrees in liberal studies and sociology. The oldest graduate is 65, earning a bachelor's degree in English.
Graduates by college:
College of Education and Human Services: 154
College of Engineering and Computer Science: 263
College of Liberal Arts: 323
College of Nursing and Health: 153
College of Science and Mathematics: 235
Raj Soin College of Business: 268
Lake Campus: 460
Boonshoft School of Medicine: 29 (master's degree only)
Notable spring class of 2021 graduates
Darnell K. Adrian Williams
Darnell K. Adrian Williams will receive his bachelor's degree in neuroscience with high honors and plans to pursue a dual M.D./Ph.D. with a Ph.D. in neuroscience.
Williams has been involved in computational neuroscience research and bioinformatics work. He has worked at the World Health Organization in Switzerland and participated in a research project involving computational biology and gene sequencing at Harvard Medical School. He also worked in a computational neuroscience lab researching alternate treatment for depression at the Weill Cornell Medical College in New York.
Williams was appointed by the Wright State Senate president to sit on the Ohio Undergraduate Mission Study Committee and has testified several times before Ohio General Assembly committees.
In 2018, Williams was a Newman Civic Fellow, a prestigious one-year fellowship for community-committed college students organized by Campus Compact.
He is also a leader and co-founder of the Retain the 9 Initiative, an effort to support and retain more underrepresented students at Wright State.
Williams has served as the executive director of the Ohio Student Government Association and is graduating as president of the Wright State student body after having served as vice president for two years prior.
Megan Lawson
Megan Lawson will graduate with a bachelor's degree in mechanical engineering, has a full-time job waiting with a major aerospace company and is the 2021 Intern of the Year in the College of Engineering and Computer Science.
Lawson interned at Collins Aerospace, a Raytheon Technologies subsidiary and one of the world's largest suppliers of aerospace and defense products. It is headquartered in Charlotte, North Carolina, but has an operation in Troy, Ohio.
Lawson first worked at Collins in the company's warehouse as a summer job for two years. She transferred to the Wheel Assembly Manufacturing unit toward the end of her time as summer help and later was asked to take on more responsibilities after a manufacturing engineer left the company for another opportunity.
Management was so impressed with Lawson that they lifted a hiring freeze and is giving her a full-time job as a manufacturing engineer after she graduates May 1.
Long-term, Lawson plans to continue working in manufacturing engineering and the operations field.
Lee and Megan McKarns
 Father/daughter duo Lee and Megan McKarns will share the spotlight in picking up Wright State degrees.
Megan will receive a dual bachelor's degree in international studies and Spanish, graduating summa cum laude and as an outstanding senior in the College of Liberal Arts and the Department of Modern Languages as well as with departmental honors in international studies.
Her father will receive a Master of Information Systems from the Raj Soin College of Business.
Both carry 4.0 grade point averages.
Lee worked at Wright State for 25 years, most of them managing education technology in the Center for Teaching and Learning. He currently works as special assistant to the chief information officer at Central State University and plans to continue his role there following graduation.
"Megan is proof that GPAs are a result of effort," said Lee. "I can honestly say that in my 26-plus years in higher education, I have not seen a harder working student than my daughter. There would be many nights that I would go to bed at 1-2 a.m. and there would be Megan in her bedroom still chugging away at her schoolwork."
Megan has been involved with the Amigos Latinos Student Association on its E-board and has traveled to El Salvador several times with her church — most recently in 2019 — working with families and performing mission work.
"It has been such a great experience being a college student with my dad," Megan said. "He has been such a great motivation to me, watching him wake up early and go to bed late in order to juggle an extremely busy job on top of his graduate work. I couldn't have asked for a better set of parents to encourage me in all of my hard work."
Following graduation, Megan plans to work with immigrants at the U.S.-Mexico border in the Rio Grande Valley.
"Megan has been an inspiration to me," said Lee. "I have watched her blossom into a confident young woman who is ready to take on the world. I couldn't be prouder."