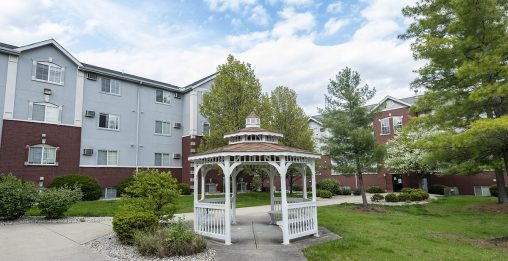 A successful and growing Dublin, Ohio-based commercial real estate company is taking over most of the student housing serving Wright State University, with modernization plans that could include a fitness area and an expansive outdoor swimming pool.
Crawford Hoying has acquired The Woods, Honors Hall and other Wright State residential housing along Zink Road from AM Management and is in the process of crafting an operating agreement with Wright State to manage the properties beginning in the fall of 2021.
"Crawford Hoying has operated student housing in some very competitive markets, like Ohio State University," said Gregory Sample, executive vice president and chief operating officer at Wright State. "They understand the competitive landscape and know there has to be a level of amenity and service provided in order to maximize occupancy. They have a plan to freshen up the housing and make it exciting."
Mike Landrum, executive vice present of property management for Crawford Hoying, said the company's roots are in student housing and it has always enjoyed its interactions with student populations.
"We're excited about Wright State's long-term vision, and we feel there's an opportunity to make small changes in the student housing that will make large impacts in the students' lives," he said.
Wright State's on-campus apartments and residence halls were constructed in the 1970s and 1980s through a public/private partnership. Crawford Hoying owns and controls over 2,700 beds through The Woods, Honors Hall and the other housing along Zink Road. Wright State owns and controls about 550 beds through Forest Lane Apartments and Hamilton Hall.
Similar to most college campuses, Wright State on-campus housing operates at about 50% capacity, in large part because of the impact of the COVID-19 pandemic and the emphasis on remote learning.
Landrum said Wright State offers a versatile mix of housing options that provide a nice framework for the refresh that Crawford Hoying has planned.
"We'll be updating and upgrading the existing buildings to better resonate with the students," he said. "Our plan is to modernize the current student housing options, beginning with the shared common spaces and amenities in each building."
Landrum said Crawford Hoying plans to invest millions of dollars in the modernization, which will include open living areas and big-screen televisions.
"We're most excited about a clubhouse addition that will feature a fitness area and an expansive outdoor swimming pool," he said.
Crawford Hoying is headed by Brent Crawford and former Ohio State quarterback Bob Hoying. The company has invested heavily in the Columbus and Dayton markets, managing over 8 million square feet of multifamily and commercial properties.
In Dayton, the company is behind several downtown projects. It has helped develop the Water Street Apartments, Delco Lofts and Centerfield Flats, which together represent several hundred apartment units with occupancy rates near 100%. It has also launched restaurant-bars Local Cantina at Centerfield Flats and Lock 27 at Delco Lofts.
In addition, Crawford Hoying is the lead on one of the largest redevelopment efforts underway in Dayton with the Mendelson project,  recently announced as "The Delco." Transformation of the 545,000-square-foot Mendelson Liquidation Outlet will feature entertainment, retail, restaurant and office and residential spaces, including a hotel overlooking Day Air Ballpark, home of the Dayton Dragons.
"The relationship between Crawford Hoying and Wright State holds great opportunity. The key to success is working from a common shared vision," said Sample. "They see the student as the primary customer and are focused on positioning the Wright State student housing portfolio to be the preferred choice for students living on or near campus."
Sample said the business contract will ensure that Wright State is fully compensated for the residential support services it provides.
"The Crawford Hoying team understands revenues from the student housing operation must cover all costs, including university expenses," he said. "What's exciting about their approach is they're looking to make investments while also exploring opportunities to lower housing rates for the upcoming fall."
Crawford Hoying has started establishing relationships with Wright State's Residence Life and Housing, Office of Marketing and Dining Services.
Landrum said Crawford Hoying puts people first, from its employees to the residents who make the company's communities feel like home.
"Customer service is always top of mind, and we hope that the students feel our support each and every day," he said. "In addition to the amazing service we provide, we're committed to offering excellent facilities and modern amenities to the students who truly deserve them."