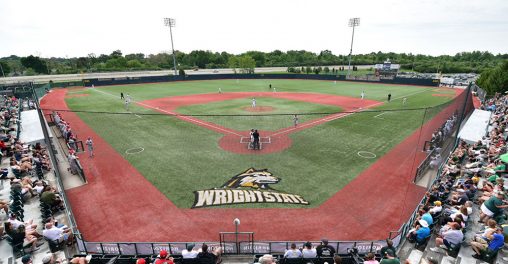 Regular season champion Wright State will begin the postseason on Thursday, May 27, when the top-seeded Raiders host No. 4 seed Milwaukee at 11 a.m. in the opening game of the 2021 Horizon League Championship at Nischwitz Stadium.
The Raiders, who locked up the regular season title on May 8, enter the tournament with a 32-11 overall record and riding a nine-game winning streak. Wright State has won 18 of 19 since mid-April and finished with a 28-4 mark in Horizon League play this season. The Raiders were 18-1 in home games at The Nisch this season.
Milwaukee enters the Horizon League Championship as the No. 4 seed with a 20-31 overall record and had a 17-23 mark in Horizon League play.
Thursday's other first-round matchup will feature No. 2 UIC and No. 3 Youngstown State in a game slated for a 3 p.m. start at Nischwitz Stadium. UIC enters the postseason with a 29-16 overall record and a 28-11 league record, while Youngstown State is 32-22 overall with a 24-16 mark in the Horizon.
The winners of the first two games on Thursday will advance to play Friday, May 28, at noon, while the two losing teams in the opening round will face off on Thursday night in an elimination game. Thursday night's elimination game winner will face the loser of Friday's winner's bracket game in an elimination game on Friday afternoon.
The championship game is slated for Saturday, May 29, at noon, with the "if necessary" game to follow.
All games of the 2021 Horizon League Championship will air on either ESPN3 or ESPN+, with live stats available to follow the action as well.
Tickets will be sold for the championship, with spectators asked to stay in their family groupings and maintain social distancing. More information on tickets is forthcoming.