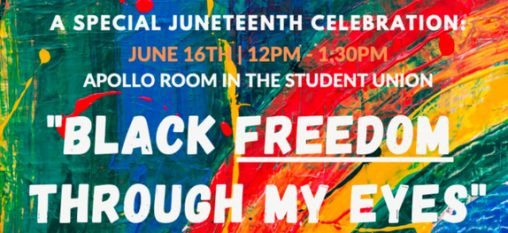 Wright State University will celebrate Juneteenth with a special art activity designed to inspire a dialogue about Black freedom in the United States.
Black Freedom through my Eyes will take place on Wednesday, June 16, from noon to 1:30 p.m. in the Apollo Room in the Student Union.
The celebration is open to students, faculty, staff and alumni. Lunch and painting supplies will be provided for free.
Participants will create a painting that demonstrates their vision of Black freedom, then take part in a conversation about that vision.
"The paintings themselves are being used for participants to artistically express how they see Black freedom in America and using their portraits to start a conversation on what that looks like to them and their role in realizing their vision," said Quatez Scott, the intercultural specialist in Wright State's Bolinga Black Cultural Resources Center.
The Bolinga Black Cultural Resources Center and the Division of Student Affairs organized the campus event to commemorate the holiday of Juneteenth.
Also known as Freedom Day, Juneteenth is the oldest national commemoration of the end of slavery in the United States. Juneteenth commemorates the anniversary of the day in Galveston, Texas, when Africans in America learned they had earned their freedom. The announcement came on June 19, 1865, more than two months after the end of the Civil War and more than two years after President Abraham Lincoln issued the Emancipation Proclamation.
Fully vaccinated individuals are no longer required to wear masks on Wright State's campus. Individuals who have not been fully vaccinated should continue to wear a mask and practice physical distancing on Wright State's campuses.