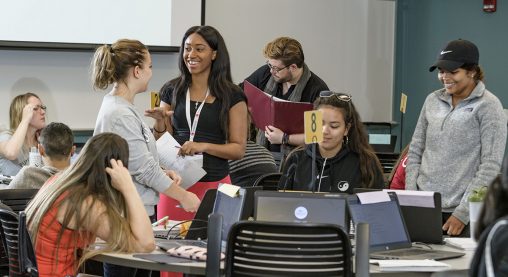 A survey of more than 1,100 students and faculty about teaching and learning during the coronavirus pandemic is influencing future course offerings at Wright State University.
The surveys were designed to help the university understand what worked and what did not for learning and teaching among students and faculty during the Fall 2020 Semester, when most classes were taught remotely.
Organized by the Faculty Senate, the Center for Teaching and Learning, the Division of Student Success and the Student Government Association, the surveys were distributed in February 2021. Responses were submitted by 855 students for a 10% response rate and 291 faculty members for a 23% response rate. View a summary of the survey results from the Faculty Senate.
Lisa Kenyon, Ed.D., faculty director of the Center for Teaching and Learning and professor of biological sciences, said the survey was designed to help the university learn what faculty and students experienced through their remote courses.
"A survey allows us to get a better representation of the Wright State community and what they experienced during this pandemic," she said. "I think we learned from that."
The survey found alignment from students and faculty in several key areas, including a desire for more engagement between the two groups. And while a majority of respondents said they preferred in-person teaching and learning, a smaller but still significant number said they are interested in hybrid courses.
A majority of respondents said they would prefer to take or teach a course in person in the future:
Students: 75% strongly/somewhat agree
Faculty: 71% strongly/ somewhat agree
A similar percentage of respondents said they would prefer to take or teach a hybrid or mixed modality course in the future:
Students: 51% strongly/somewhat agree; 29% strongly/somewhat disagree
Faculty: 47% strongly/somewhat agree; 29% strongly/somewhat disagree
Laura Luehrmann, Ph.D., professor of political science who served as Faculty Senate president when the survey was distributed, said she was happy to see alignment from students and faculty members.
"I was really happy to see the arrows going in the same direction," she said.
Kenyon said the survey results show unity among faculty and students. For instance, she noted that faculty want to engage with their students and students want to engage with their instructors and peers. But that's challenging to do in remote learning.
The surveys also show that there is an interest from faculty and students in flexible course offerings beyond fully in-person classes, Kenyon and Luehrmann said.
"It tells us we can't be a one modality school anymore," Kenyon said. "We have options of flexibility that will help us grow."
Hybrid courses can include both in-person and online components, Kenyon said, making courses more accessible for people who are not able to come to campus while providing more real-world and interactive learning opportunities.
For instance, in a hybrid course, students could watch an online lecture then participate in an in-person class where they apply lessons from the lecture to solve problems, work on a project with peers or create a product.
"By changing the pedagogy, you can make that in-person class more worthwhile for the student and give them more reasons to attend class," Kenyon said.
Luehrmann noted that before the pandemic, faculty and staff were working on plans to increase the number and types of online courses offered at Wright State.
"There is definitely a role for online and a greater role for online learning than we appreciated in 2019," Luehrmann said. "I think there's a lot of people now who would think about teaching online who never thought that was in their wheelhouse before the pandemic, for students and faculty. It's expanded that sense of possibility as well."
Even in her in-person courses, Luehrmann said, she will use more online tools to connect with students and reinforce the materials to help them create an academic community.
"That to me is the really fun part of this," she said.
The survey results inspired the Center for Teaching and Learning to launch a Hybrid Teaching series for faculty members. More than 70 faculty members attended the first event, more than double the usual number of participants. Over the summer, CaTS is providing training on classroom equipment for remote teaching while CTL is offering individual training to faculty members on instruction to improve hybrid pedagogy.
Student responses showed that Wright State needs to do more to help students master online learning. Last year, faculty members had access to training to help them teach remotely, but students didn't receive teaching or mentoring about how to learn online, Kenyon and Luehrmann said.
"Learning online is a completely different experience," Luehrmann said.
In May, interim Provost Oliver H. Evans announced that Wright State would pursue a new strategic initiative focused on enhancing and growing the university's platform supporting remote delivery of instruction. The initiative will include the development and implementation of a comprehensive e-learning strategy and the production of best-in-class online courses and programs for students and community partners.
In the Fall 2020 Semester and the Spring 2021 Semester, about 35% of instruction was delivered in-person and about 65% of classes were delivered remotely.
More than 70% of Dayton Campus courses and about two-thirds of Lake Campus courses are expected to include an in-person learning component in the Fall 2021 Semester.
Other results from the surveys include:
How has your perception about online teaching/learning shifted since the start of Covid 19?:
Students: 29% more favorable; 43% less favorable
Faculty: 45% more favorable; 17% less favorable
I would prefer to take/teach a course online in the future:
Students: 35% strongly/somewhat agree; 49% strongly/somewhat disagree
Faculty: 41% strongly/somewhat agree; 36% strongly/somewhat disagree
What resources did you utilize to support your learning? (Students):
Academic Advising: 37%
CaTS Help Desk: 26%
Academic Success Centers: 16%
Counseling and Wellness: 8%
Office of Disability Services: 7%
Platforms used by respondents:
Collaborate Ultra: ~50%
Webex: ~27%
Zoom ~15%