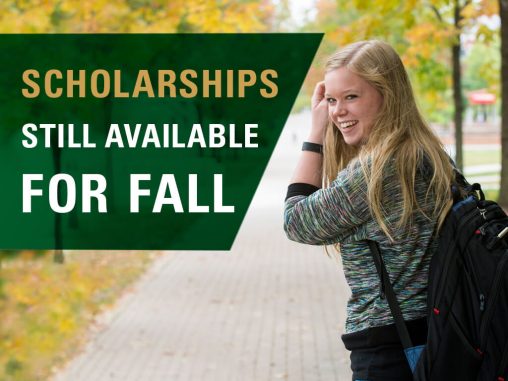 Wright State University has extended the deadline for First-Year Scholarships to all 2021 high school graduates who apply to Wright State before the Fall Semester.
First-Year Scholarships are available to eligible new students who enroll directly from high school for the 2021–2022 academic year.
Admitted first-year students will automatically be considered for an academic performance scholarship based on their high school GPA. Students with a high school GPA of 3.2 or higher qualify.
Direct from high school students will also be considered for a need-based scholarship when they submit their FAFSA to Wright State.
Families who are not familiar with the FAFSA, or Free Application for Federal Student Aid, are encouraged to attend one of Wright State's Financial Aid 101 virtual events or sign up for a one-on-one appointment. For more information, visit wright.edu/fafsa101.
Wright State's admission application is free. Students can apply today at wright.edu/apply.
Wright State extended the scholarship deadline for new first-year students coming to Wright State directly from high school because "we know that during the national emergency plans change, and then they change again," said Kim Everhart, director of financial aid.
"The scholarship deadline was a barrier to an affordable education and Wright State wants to support students who have faced challenges during the pandemic," she said.
More information on First-Year Scholarships is available at wright.edu/firstyearscholarships.
Wright State's First-Year Scholarships are:
Green and Gold Scholarship: Offers are determined by a student's academic performance. Students are eligible if their high school GPA is 3.2 or higher.
Wright Start Scholarship: Offers are determined by need, as determined by the FAFSA. No minimum high school GPA required. Students must be admitted and file a FAFSA to be considered.
Dunbar Scholar: Offers determined by academic performance and ethnicity. Students are eligible if their high school GPA is a 3.0 or higher and they are a member of an underrepresented ethnic group (African American, Asian, Native Hawaiian, or Other Pacific Islander, Hispanic or Latino, or American Indian/Alaskan Native).
These undergraduate scholarships range from $500 to $3,500 and are renewable if a student continues to meet the criteria specified in their offer letter.
Wright State will also offer a Presidential Welcome Scholarship, a one-time $1,000 scholarship awarded based on need, to new, direct from high school students who are Ohio residents. Over 34% of new direct from high school students will be eligible for the Presidential Welcome Scholarship.
For the 2021–22 academic year, scholarship offers will be made using a holistic approach, reviewing each student's admission application and FAFSA. Students can qualify for scholarships using this holistic approach.
Along with providing gift aid to help provide a more affordable education, Wright State has one of the lowest tuition rates among Ohio's four-year universities.
And the Wright Tuition Guarantee Program locks in the same annual cost of tuition, housing and dining over a four-year college career for newly admitted, degree-seeking undergraduate students who are Ohio residents.
Students and families will find everything they need to know about financial aid, including applying for, accepting and receiving aid, at wright.edu/NeedToKnow.
Explore Wright State
Future students and their families can learn more about Wright State, explore majors and programs, and tour campus during Raider Open House on June 18 and July 23 in the Wright State University Nutter Center. Register for Raider Open House.
Future students can also explore campus and housing options on a virtual tour at wright.edu/virtual.
Wright State offers in-person daily tours of campus. Available times are listed on the calendar of events. Click on the time slot you are interested in and complete the registration form. Each student may bring up to two guests.