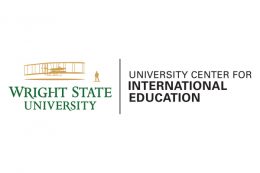 Six Wright State University students received U.S. State Department scholarships to study abroad in 2022, opening the door for experiences in the United Kingdom, Ireland, Spain, South Korea and France as well as in global virtual programs.
Receiving the Benjamin A. Gilman International Scholarships are Brad Kerry, who will study in Ireland; Lilith Holloway, who will study in France; Rynn Ragland, who will study in South Korea; Gabrielle Tebo, who will study in Spain; and Tracy Evatt, and Brooke Perry, who will participate in global virtual programs.
The six scholarships, which totaled $24,000, followed numerous Gilman Scholarship workshops held by Wright State's University Center for International Education as well as having the Office Financial Aid identify students who qualified.
In 2019, Wright State was named among the institutions showing the greatest growth in sending students overseas by the State Department's Gilman program, which is designed to make international study more accessible and inclusive.
Ragland said the scholarship means a huge leap towards a dream career.
"Studying abroad is more than just taking classes," said Ragland. "For me it means getting to learn more about the world around me and make new friends while doing so."
The scholarships enable students to gain proficiency in diverse languages and cultures, skills that are important to their academic and career development.
Tebo said the opportunity to study abroad will allow her to develop and improve language skills and learn culturally and historically relevant information about the country, languages and communities.
"This will give me the opportunity to build a stronger foundation of the Spanish language and a better understanding of cultures within the Spanish-speaking world," she said. "Additionally, this will help to support my academic success and allow me to apply this knowledge to career opportunities in the future."
The Gilman program broadens the U.S. student population studying and interning abroad by providing scholarships to outstanding undergraduates who due to financial constraints might not otherwise participate.
Halloway said receiving the scholarship is an incredible honor for her.
"This Gilman scholarship will help me study abroad as it gives me the opportunity to have more experiences," she said. "I could not have afforded it for myself had I not been a recipient."
Evatt and Perry praised the help of their study abroad advisors — Monica Ratliff and Megan Trickler. And Kerry encouraged nontraditional students like himself to apply for the scholarship.
For more information about Wright State's study abroad, visit studyabroad.wright.edu or email studyabroad@wright.edu.