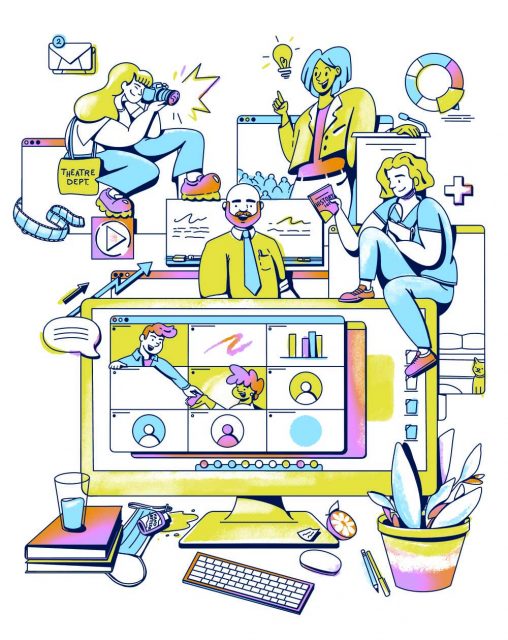 The COVID-19 pandemic has been a beastly tidal wave, turning the practices, values, and rhythms of society upside-down.
It has changed the way students learn and workers work. It has shaken up the supply chain, put the squeeze on small businesses, and altered the way entertainment is delivered and consumed. It has even challenged such cultural traditions as the high school prom.
The question now is how permanent these changes will be.
Experts at Wright State tapped into their reservoir of knowledge and did a little crystal-ball gazing to predict what the business, health, education, and entertainment landscapes will look like as the nation emerges from the pandemic.
Matter of life and death
How the COVID-19 pandemic has shaped the future of nursing
Ann Stalter, Ph.D., professor and chair of nursing, said there will not likely be a post-COVID world; people may be forced to co-exist with the coronavirus.
"Because it both mutates and kills, we must learn to defend ourselves against it," she said. "The way we do that is evolving. A year ago, it meant lowering a curve through lockdowns, then it became mask use and protecting our most vulnerable. Today, it is moving toward herd immunity through vaccination and returning to a more functional society."
Stalter said the pandemic forced nursing faculty to shift from the face-to-face clinical teaching of students, typically 200 hours per semester, to doing it virtually.
"Imagine trying to learn how to care for a person—say start an IV or give a shot—without having an actual patient present," she said.
COVID has not defined nurses, but instead has showcased who they are and what they do.
"COVID has strengthened nurses' abilities to inspire, prevent, and educate by harnessing their internal drive and passion," she said. "We learned a sense of balance to care for ourselves, fellow nurses, and patients with greater compassion."
Stalter's colleague, Rosemary Eustace, Ph.D., professor of nursing, added, "The COVID-19 pandemic has shown us how a good investment in the nursing workforce will be a good return on health, social, behavioral, and economic outcomes in nursing homes, community/public health clinics, and hospitals."
Rewriting history
What will the history books say about the pandemic in 20 years?
Jonathan Reed Winkler, Ph.D., professor of history, predicts economic shifts from COVID with important long-term consequences.
"Some industries found that they really don't need to be in one place, and subsequent actions have accelerated their decentralization of operations," he said. "This will have important tax revenue implications for communities. It will also mean a de-urbanization as people choose not to be near the job since they don't have to be."
Winkler said office parks may no longer need to be mowed, cleaned, or repaired as much as they were.
"That means lots of other service-related jobs will change, and we'll have what no one expected in the boom of the service industries in the last 20 years–that it might go away," he said.
Winkler said it will also lead some countries to think very carefully about how much they were affected by the COVID-related slowdown in the supply chain and make new choices.
"We saw that last year with the revelations about how much personal protective equipment and medicine the United States uses that comes from China and is not produced at all domestically," he said. "That is changing now, and so there will be long-term industrial and business implications of that shift in supply chain."
Small get smaller. Big get bigger.
As online retailers cash in, small businesses continue to suffer
"I think it's going to have a long-term impact because of the fear of the virus returning," said Charles Gulas, Ph.D., professor of marketing. "People are going to be very apprehensive for at least the next couple of years."
Gulas said online retailing has become even bigger because of COVID, putting the pain on small retail stores.
"Certain kinds of businesses are not going to do very well because of the changes," he said. "With any kind of change, there are winners and losers."
Some small businesses were forced to reduce their hours because they couldn't hire enough workers, Gulas said—many of whom chose to collect unemployment instead of returning to the labor force. Many small businesses were also hurt by states raising the minimum wage, which also often forces businesses to give raises to their other employees.
Gulas, who has spoken with several small business owners, said some have chosen to invest in technology to replace hard-to-find workers.
"Technology is probably going to become a bigger part for some of these small businesses," he said.
Gulas says that working remotely is going to become a bigger part of the economy and include college students, many of whom have become comfortable with distance learning.
"That's going to have an impact perhaps on college towns and small businesses there," he said. "They may not have all of their students on campus that they used to have."
He said small businesses, such as restaurants and janitorial services, that serve office workers may also suffer if those employees decide to work from home permanently.
"I think there is probably going to be less business travel. If you can do a conference online, why should you drive or fly someplace to do it? So I think there are going to be some permanent impacts of it."
The show must go on
As crickets were heard on Broadway, entertainment has drastically shifted
Joe Deer, artistic director and distinguished professor of musical theatre, said the pandemic rocked the entertainment world. However, he said it also revealed much about how people want to access storytelling.
"Broadway and live theatre from around the world were put on ice," he said, "but recorded performances of great theatre like Hamilton and plays from England's National Theatre were so popular that we know there is a real appetite and market for that kind of access to theatre. I think it will take off in coming years."
Deer said the old financial and management models that much of the commercial theatre world has depended on are firmly rooted in mid-20th century practice. He said it is not transparent and puts a lot of power in very few hands.
"Broadway and commercial theatre is actually a very small 'club' and hasn't been receptive to much change," he said. "I think the social activism of the last year, coupled with the financial collapse of all commercial theatre, is going to demand new ways of approaching how we produce theatre. I'm not sure that's a downside, but it is definitely going to require change."
During the pandemic, Deer said, the film industry became a lifeline for many people, who spent hundreds of evenings at home looking for an escape or perspective.
"We basically had a few choices—24 hours of cable news disaster and political coverage, reading, or binge-watching movies and series," he said. "Most of us did a lot of the latter. So it's clear that there has never been a greater hunger for short-arc episodic TV and for all kinds of films."
Deer said viewers' willingness to stretch themselves beyond the mainstream Cineplex offerings on Amazon Prime and Netflix proves that they are more sophisticated and eclectic in their tastes. This, he said, has made streaming producers willing to invest in limited series and direct-to-streaming platforms, producing a new kind of "prestige" job for many A-list creators.
"It's also made access to every kind of film infinitely easier," he said. "I'll be interested to see how we return to actual brick-and-mortar movie theaters when we're allowed. I can't predict how that experience might change."
In case of emergency
The shift from pressing to immediate need in nonprofit fundraising is here to stay
The pandemic also changed how fundraising is done, according to Bill Bigham, interim vice president for advancement/director of planned giving.
"Pre-COVID, organizations relied on face-to-face solicitation and events to generate a significant amount of the dollars they raised," he said. "It has become much more difficult to meet in person, and many donors are hesitant to do so. And while there are signs that organizations are planning a return to holding events, it is still all but impossible to have any large-scale events."
Bigham said COVID resulted in a jump in the amount of donations to human services agencies.
"There has been an increase nationally in giving, as donors have tried to address immediate and pressing needs," he said. "But even though there is an increase in giving, the trend of organizations relying more and more on a smaller number of donors but getting those donors to give at higher levels will persist."
Bigham doesn't believe the pandemic will have a lasting impact on to whom the donors give.
"Although some may have shifted their giving to help with immediate life needs that have become more critical during COVID, they will likely return to supporting those organizations or causes with which they have felt most aligned," he said.
Illustration Credit: Cody Rayn of the Ohlmann Group
This article was originally published in the fall 2021 issue of the Wright State Magazine. Find more stories at wright.edu/alumnimag.