Excerpt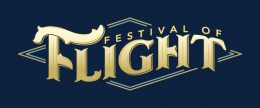 Wright State University is preparing to celebrate the area's rich aviation history Saturday, Sept. 25 with its second annual Festival of Flight. The event, held in Lot 1 on the university's campus, will be chock full of hands-on aviation-related activities, live entertainment, food vendors and more.
Those who are especially interested in the area's aviation history will get a kick out of the world premiere of "A Journey Through the Birthplace of Aviation," followed by a panel of National Aviation Heritage Area members. Michelle Rouch will also be at the event, signing copies of her new book, "Astronaut Al Travels to the Moon." To get a glimpse of where the Wright brothers built and practiced their flyers, the National Park Service will offer guided tours of Huffman Prairie. Hands-on activities will also be available at the Innovation and Education Hangar and MacAir Aero Club Formation Flying Group will do flyovers throughout the event.
Additionally, the festival will feature a lineup of musical acts, including Todd the Fox from 1 p.m. to 2:30 p.m., Hey There Morgan from 3 p.m. to 4:30 p.m. and Disturbing the Peace from 5 p.m. to 7 p.m.
Keep the kiddos entertained with the inflatable attractions at the Northwestern Mutual Kids Zone from 11 a.m. to 4 p.m. Festival organizers are asking for a donation of $5 per child to enter the Northwestern Mutual Kids Zone. Proceeds will support Alex's Lemonade Stand Foundation, which benefits childhood cancer.
The event will also feature food trucks like Lilia's Outside Cafe, Grumpy Joe's Cafe, Chick-Fil-A, Graeter's Ice Cream and Kona Ice. Beer and wine will also be available in the beer garden.
HOW TO GO
What: Wright State University's Festival of Flight
Where: Lot 1 at Wright State University in Fairborn
When: Saturday, Sept. 25 from 11 a.m. to 7:30 p.m.
Cost: Free, with the cost of fare
More info: festivalofflight.org