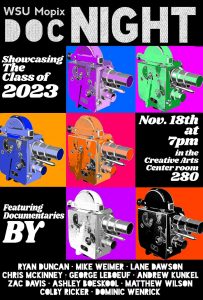 Wright State University Motion Pictures students will premiere short documentary films during two special Doc Night events.
The traditional Doc Night takes place on Thursday, Nov. 18, from 7 to 9:30 p.m. in 280 Creative Arts Center. Audience members and filmmakers are required to wear masks and observe university COVID-19 protocols.
The documentary films will also be shown during an online matinee on Saturday, Nov. 20, from 12:30 to 2:30 pm on the Motion Pictures Program's YouTube channel.
The screenings are free, and donations will be accepted.
Doc Night will feature 11 documentary films followed by a question-and-answer session with the students.
Doc Night showcases the best short student documentaries from the Documentary Semester of the junior year. Students spend a semester learning the art form and producing different types of documentaries in the process. They learn important skills that help train them to become future filmmakers.
"I'm really proud of the work I've done and the work my class has done this semester. I think we've stuck through a lot, and learned a lot from it, and that shows in our work," said Colby Ricker, a junior majoring in motion pictures.
Selena Burks-Rentschler, an instructor in Tom Hanks Center for Motion Pictures and a graduate of the Motion Pictures Program, said she has been impressed with the students' work.
"I'm very proud of the junior class this year," she said. "They are working on multiple documentaries, and their projects are well done. Their stories are compelling and entertaining. The production value is professional."
Doc Night will feature films by Ashley Boeskool, Zac Davis, Lane Dawson, Ryan Duncan, Andrew Kunkel, George Leboeuf, Chris McKinney, Colby Ricker, Mike Weimer, Dominic Wenrick and Matthew Wilson.
You can meet the filmmakers by following @WSU_Mopix on Twitter.