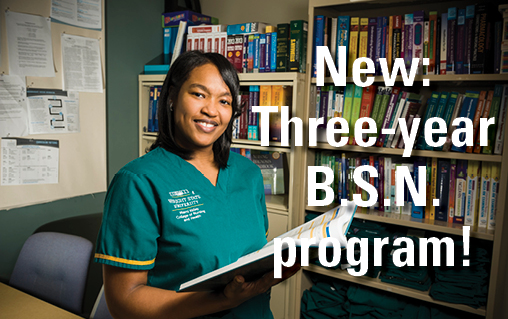 Wright State University will offer a three-year undergraduate nursing degree starting this fall, allowing students to graduate and enter the workforce more quickly.
The three-year degree program is advantageous for both students and the community, said interim Provost Oliver H. Evans, Ph.D. Wright State nursing graduates can start their careers faster and area hospitals can fill critical bedside positions more quickly.
"We are doing this in part to help meet the demand for nurses, and we are doing it in part to allow students to complete a program that will get them into the job market more quickly than a four-year program," he said.
The three-year degree program will help fill a critical need for professional nurses in the Dayton region. Before the COVID-19 pandemic, the area had already been experiencing a nursing shortage.
This problem has been exacerbated during the pandemic, with overworked hospital nurses leaving the bedside for other professional opportunities or to pursue an advanced degree. Some are leaving the nursing profession altogether.
"It's a problem everywhere," said Deborah Ulrich, Ph.D., professor of nursing and assistant co-chair of Wright State's School of Nursing, Kinesiology and Human Sciences. "Nursing is a difficult job and they burn out quickly. COVID has placed an additional stress on the profession."
Ann Stalter, Ph.D., professor and chair of nursing, said helping the region's health care facilities fill job openings with Wright State nursing graduates will assist in providing patients with quality care.
"That should help our health care partners increase quality and safety within their organizations," she said. "The state has a shortage of nurses at the bedside — that's a real problem for the public's health."
Wright State will implement the new three-year Bachelor of Science in Nursing program at the Dayton Campus starting in the Fall Semester of 2022. In the future, students will also be able to begin the program in Spring and Summer Semesters.
Wright State's Lake Campus will continue to offer a four-year B.S.N. Current students are not eligible for the three-year program.
The new three-year degree schedule will allow nursing students to graduate in eight or nine semesters. The accelerated timeframe is made possible by offering undergraduate nursing courses during Summer Semester, something the program has not provided in recent years.
Nursing students will spend their first two to three semesters primarily taking Wright State Core courses, including science, statistics and English courses, plus a new Introduction to Nursing course. The final six semesters primarily consist of nursing courses taught by the School of Nursing's expert faculty.
"Our faculty are experienced and well-respected nurses and nurse educators," Stalter said. "They strive to help students succeed."
While students will graduate faster than a traditional four-year program, they will continue to receive the same rigorous training. Stalter stressed that Wright State will not race to graduate nursing students, but instead is make strategic use of the academic calendar to accelerate the pace of learning.
"What sets Wright State apart is our focus on quality and safety," she said. "We have an excellent reputation for that care."
Students spend around 200 hours in clinical experiences during a capstone. They also develop their nursing skills by training on state-of-the-art patient simulators and in the School of Nursing's nursing lab.
During their final semester, students are required to complete a preceptorship during which they work in one of the region's hospitals supervised by a registered nurse caring directly for patients.
The hands-on preceptorship experience is one of the strengths of Wright State's nursing curriculum, Stalter said. Many students also receive a job offer before graduation from the facility where their preceptorship takes place.
The School of Nursing has established relationships with the region's major health care organizations — Premier Health Partners, Kettering Health Network, Mercy Health Network and Dayton Children's Hospital — and more than 200 health care agencies.
Students also have opportunities to collaborate and conduct research with students and faculty from other health programs in Wright State's College of Health, Education and Human Services, which opened last fall and is designed to emphasize interprofessional collaboration.
Wright State's B.S.N. program prepares self-directed graduates to work in a number of settings and in collaboration with other health professionals to coordinate and improve the health care of individuals, families and communities.
Wright State's baccalaureate degree program in nursing is accredited by the Commission on Collegiate Nursing Education and approved by the Ohio Board of Nursing. Graduates of the prelicensure pathways are eligible to sit for the National Council of State Boards Licensing Examination (NCLEX) to become licensed as registered nurses.
Learn more about Wright State's three-year Bachelor of Science in Nursing Program.